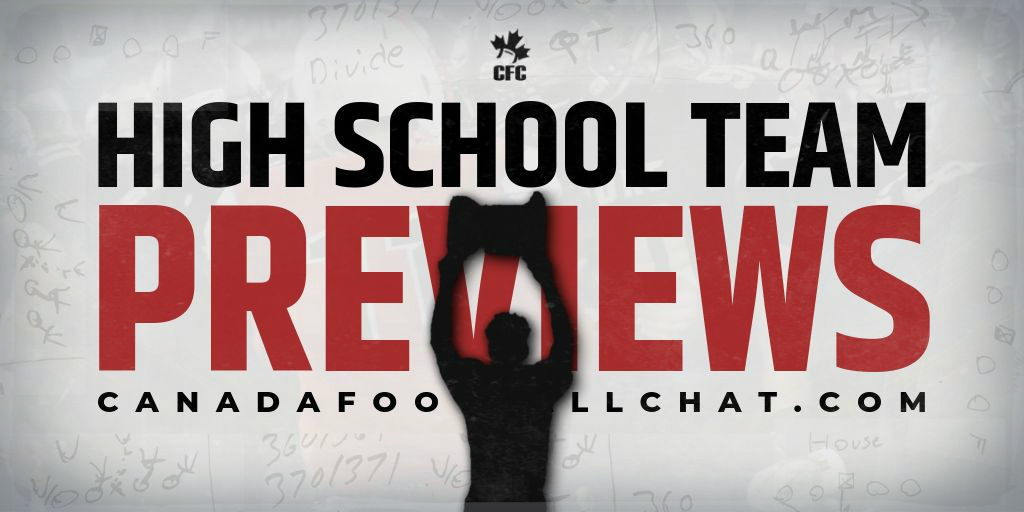 Leading up to the start of the high school season, we will be posting high school/Cégep team previews from June to September as part of our comprehensive season coverage. Canadafootballchat.com (CFC) has tapped into our network of coaches to produce high school team previews for the 2019 season.
The previews highlight top returning players, team strengths, and toughest opponents. All team previews will be linked here and will be displayed on CFC's social media platforms.
CFC also will bring you the national high school football rankings known as the CFC50. You can read about last year's final ranking here.
If you would like CFC to preview your high school team, send us an EMAIL
***published articles will be linked
Rank 2018
TEAM
CONFERENCE / DIVISION
CITY / PROV
No. 3
Harry Ainlay Titans
Carr Division Tier 1 – MEHSA
Edmonton, AB
No. 32
Holy Cross Crusaders
KASSAA / EOSSAA
Kingston, ON
No. 7
Mount Douglas Rams
AAA Western Conf.  – BCHSFA
Victoria, BC
No. 10
Holy Trinity Titans
LOSSA
Courtice, ON
No. 19
Vancouver College Fighting Irish
AAA Western Conf.  – BCHSFA
Vancouver, BC
No. 16
Jacob Hespeler Hawks
AAA – WCSSAA/CWOSSA
Cambridge, ON
No. 31
Barrie North Vikings
AAA Georgian Bay
Barrie, ON
No. 27
Korah Colts
Tier 1
Sault Ste. Marie
No. 9
Catholic Central Crusaders
WOSSA
London, ON
No. 21
New Westminster Hyacks
AAA Western Conf.  – BCHSFA
New Westminster, BC
No. 4
Holy Names Knights
AAA Tier 1 – SWOSSAA
Windsor, ON
No. 11
Séminaire St-François Blizzard
Juvenile 1 – RSEQ
Laval, QC
NR
Prince Andrew Panthers
Nova Scotia Conf. – D1
Dartmouth, NS
No. 46
Westmount Wildcats
WDSB – D1
Hamilton, ON
NR
Robert Bateman Timberwolves
AA Eastern Conf. – BCHSFA
Abbotsford, BC
No. 28
Citadel Phoenix

Nova Scotia Conf. Tier 1 – NSSAF

Halifax, NS
No. 29

Lord Tweedsmuir Panthers

AAA Eastern Conf. – BCHSFA

Surrey, BC

No. 24
Leboldus Golden Suns
Schwann Conf. 6A – RHSAA
Regina, SK
No. 26
Salisbury Sabres

Carr Division (Tier 1) –

MEHSA
Sherwood Park, AB
No. 2
St. Francis Browns
D1 Tier 1 – CSHSAA
Calgary, AB
No. 1
St. Thomas More Knights

HWCDSB – GHAC

Hamilton, ON
How is the CFC50 evaluated?
The CFC50 is a RELATIVE RANKING that considers top tier leagues from all eight high school playing provinces (minimum one team represented from each province).
The CFC50 rankings considers all conference and non-conference games (in Canada and the United States) while scrimmages are not evaluated (there is no such thing as an exhibition game – those are non-conference games), forfeits* are not considered in the overall record.Leagues included in rankings: British Columbia AAA Varsity, Alberta Tier One, Saskatchewan 12-man 4A, Manitoba AAA Varsity, Ontario OFSAA Bowl AAA qualified teams, Quebec Juvenile Division 1, New Brunswick 12-man, Nova Scotia Tier 1.
The CFC Scouting Bureau consists of CFC Reporters, CFC Scouts, and also selected local reporters and scouts who submit local ranking results on a weekly basis.  This is the 9th year that Canadafootballchat.com has ranked the top high school teams in Canada.
For all your recruiting and player news, we've got you covered with the most in-depth analysis and insider information you'll find in Canada.
As a CFC INSIDER member, you will have access to:
Become a CFC Insider MEMBER today!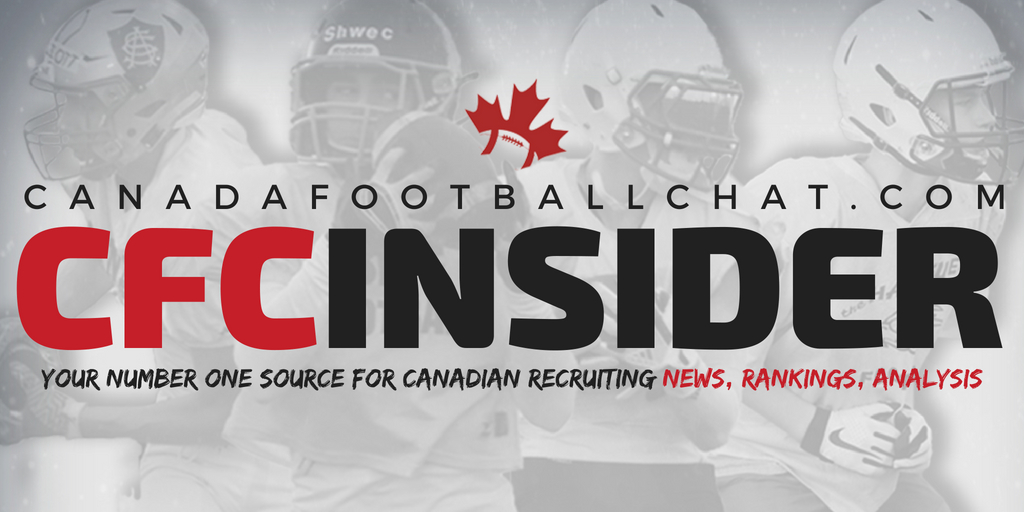 About Canadafootballchat.com
CFC is the number one national amateur football website (source: ComScore.com) and most respected source for high school and recruiting news in Canada.
About the 'CFC Insider'
The 'CFC Insider' section is for the fan, player, coach, parent, looking for MORE. The mission of this exclusive membership section is to give more recruiting news, exclusive rankings and multi-series stories as well as coach-player instructional videos.
As a CFC INSIDER member, you will have access to:
Become a CFC Insider MEMBER today!
SUBSCRIBE NOW