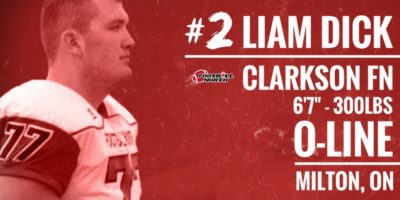 Ask and you shall receive. After a dry spell in the offer market, CFC100 Liam Dick out of Clarkson Football North picked up the slack with an opportunity to play for one the newest FBS programs. He now has eight NCAA DI offers on the board.
"Had the opportunity to meet the staff and have a tour. Was impressed with the school and everything that it had to offer."
About Canadafootballchat.com
CFC is the number one national amateur football website (source: ComScore.com) and most respected source for high school and recruiting news in Canada.
About the 'CFC Insider'
The 'CFC Insider' section is for the fan, player, coach, parent, looking for MORE. The mission of this exclusive membership section is to give more recruiting news, exclusive rankings and multi-series stories as well as coach-player instructional videos.
As a CFC INSIDER member, you will have access to:
Become a CFC Insider MEMBER today!
SUBSCRIBE NOW