Luke McMillan is suiting up in his third football season with the Miles MacDonnel Buckeyes. Last year, in Luke's first year of football he was named Special Teams Player of the year.
The highlight of last season for Luke was having his first multi-catch game and scoring his first touchdown.
Luke doesn't have to look far for inspiration. Luke looks up to his Dad because he's played university football at the University of Manitoba, and coaches at St. John's High School.
Last summer Luke was a member of the U18 Team Manitoba at the Canada Cup.
Being at the Canada Cup gave Luke recruitment exposure and he learned what the process was all about. Luke's recruitment process so far has been good.
Once Luke is finished at Miles MacDonnel his plans are to play U Sports football for any university. Luke's first choice of a post-secondary school is the University of Manitoba, or to play Junior most likely for the Winnipeg Rifles.
To prepare himself for the football field, Luke does strength training on average 3 times a week and cardio at least once.
Luke will be focusing on his speed this year in order to be faster for the next level. "I will be focusing a lot on my speed because I know if I want to make it at the next level I will need to be much faster than I am," explained McMillan.
In January Luke will be participating in a morning camp run by the Winnipeg Blue Bombers starting in January.
Luke McMillan
Wide Receiver, Punter, Defensive Back
6'0, 160 lbs
Teams: Miles MacDonnel Buckeyes (WHSFL)
Commitment: none
Official Visits: n/a
Considerations: open
Class: 2018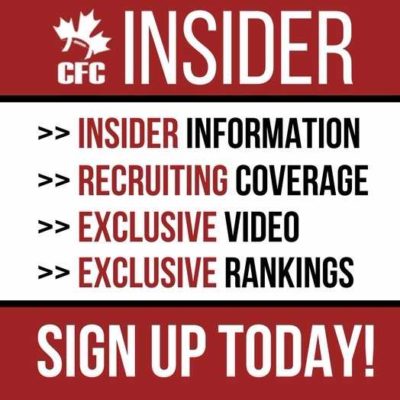 About Canadafootballchat.com
CFC is the number one national amateur football website (source: ComScore.com) and most respected source for high school and recruiting news in Canada.
About the 'CFC Insider'
The 'CFC Insider' section is for the fan, player, coach, parent, looking for MORE. The mission of this exclusive membership section is to give more recruiting news, exclusive rankings and multi-series stories as well as coach-player instructional videos.
As a CFC INSIDER member, you will have access to:
Become a CFC Insider MEMBER today!
SUBSCRIBE NOW