Ontario & Manitoba standouts newest recruits to join AUS Champions' 2014 class.
Two offensive standouts are the newest members of the AUS Conference Champions.
Kiel Ambursley and Marc Kirouac recently committed to the Mount Allison Mounties for the 2014 AUS season.
KIEL AMBURSLEY:
The 5'8, 175 pound running back from Toronto, Ontario was hooked from the moment he arrived on the Sackville, New Brunswick campus.
"I committed to Mount Allison University because as soon as I stepped on the campus I felt the close family environment among the football program and staff," explained Ambursley of his decision.  "The overall atmosphere was extremely welcoming and the program has had great success in the past."
"The education stands for itself being the number 1 undergraduate program in the country and the group of players were like no other. I was immediately treated like part of the family and that's something that really caught my attention. A roster opening was a big factor for me, as well as having great success in the run game in the past. The smaller classrooms and campus atmosphere felt more personal and welcoming which I found very outstanding, coming from a big city like Toronto. I chose Mount Allison University because I felt it was the best fit for me. I can't wait to contribute to the ongoing success of the Mounties!"
Ambursley comes to the Mounties after completing his high school career with Malvern Black Knights of the Toronto District Secondary School Athletic Association (TDSSAA).  This past season, the Knights were City Finalists but were defeated by Downsview Mustangs.
Moreover, the running back suited up for the Scarborough Thunder of the Ontario Varsity Football League (OVFL).  During his time there, Ambursley was selected as a junior varsity Wettges All-Star and was also nominated as Offensive MVP of the All-Star game in 2013.
Not only is Ambursley a running back, but he has also played at the slotback and halfback positions.  Furthermore, he played on special teams as a kick/punt return specialist.
"I'd like to thank my family and friends who were huge supporters of my athletic goals and played a huge roll in contributing to my success," added Ambusley.
As for the Mounties, the team is thrilled to welcome the Ontario offensive standout into the fold.
"Kiel is an every down back," commented Mounties Head Coach Kelly Jeffrey.  "He has very good vision and anticipates his cuts well."
"He can also hurt you as a receiver out of the backfield and is physical in pass protection. I was very impressed with Kiel's character on his visit and we expect him to provide competition at tailback immediately."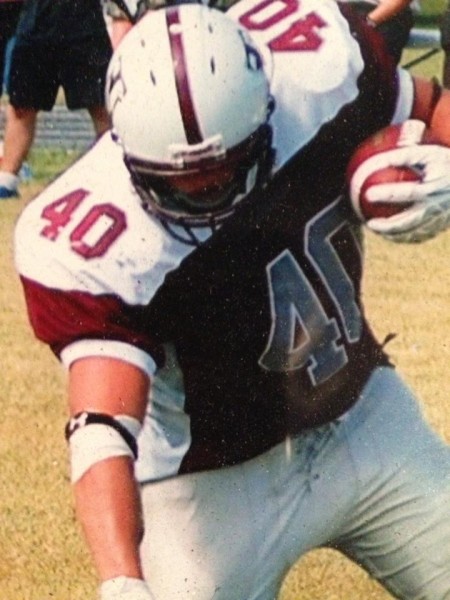 MARC KIROUAC:
For the 6'0, 225 pound running back/fullback from Ste.Anne, Manitoba, he believes that the campus provides an excellent opportunity to thrive on the field and in the classroom.
"I chose Mount Allison because they have a good team that has been improving each year and I believe it is the best place for me to excel," expressed Kirouac.  "I like the small class sizes and I will be able to get a good education from the number 1 undergraduate school in Canada."
Recently, Kirouac played for the Transcona Nationals.  This past season, he amassed 1218 rushing yards on 132 carries and scored 17 rushing touchdowns.  Additionally, the offensive standout had 100 receiving yards on six receptions and a receiving touchdown.
"Marc has great feet and showed very good elusiveness as a running back," added Jeffrey.  "He will fit in well with our scheme and can contribute at a number of positions."
About Canadafootballchat.com
CFC is the number one national amateur football website (source: ComScore.com) and most respected source for high school and recruiting news in Canada.
About the 'CFC Insider'
The 'CFC Insider' section is for the fan, player, coach, parent, looking for MORE. The mission of this exclusive membership section is to give more recruiting news, exclusive rankings and multi-series stories as well as coach-player instructional videos.
As a CFC INSIDER member, you will have access to:
Become a CFC Insider MEMBER today!
SUBSCRIBE NOW