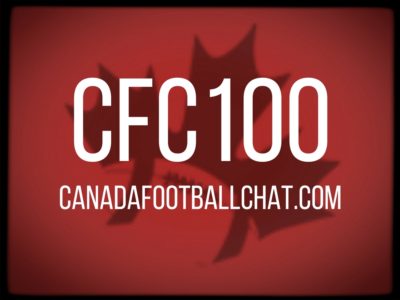 As CFC is getting ready to release the 3rd edition of the CFC100 top prospects list for 2018, here is a refresher on how the CFC scouting bureau makes the list and what athletes can do to get ranked. Remember, your coach is your strongest advocate so get them involved and have them contact the Scouting Bureau with your highlight tape.
Here are seven points that will help to explain how CFC develops this MERIT BASED LIST.
Merit based
UPDATED highlight film
Enrolled in school
Quality of league
Combine testing
Teams you play on (high school, all-star, provincial, national)
Social media
Merit based
The list, in its essence, is merit based. If you are a great player and we find you, you will be evaluated and placed on this list. The only thing that is important is that you are a legitimate prospect and you are handling your business in school. Does it help to use certain events outside of your primary football team? Yes, it does. But at the end of the day, there is no amount of money, or lobbying that will get you on this list. The only thing that the scouting bureau evaluates; do you merit being a CFC100?
This is NOT a production list, this is a prospect list. This means you must have obvious traits that are potential based.
Updated highlight film
Every year, the scouting bureau crosses between 10-15 names off the list because they don't have a highlight film or an updated one. Not only do you need to keep these up-to-date, but all the details that are presented on the profile need to be accurate (ie. height, weight, testing times, current primary position). You can put your stats on your profile, however, if we can't verify these through the league's website, they are not considered.
When you put your highlight up, try and make your first ten plays, your BEST ten plays. Try and make the highlight's against competitive, legitimate opponents. Because the scouting bureau has so much experience and knows amateur football across the country, we know who you are playing against and the level of competition. If you run for 350 yards and 7 touchdowns against the worst team in the league, there is a pretty good chance that we will see that and it will have no bearing on how we evaluate you.
Enrolled in school
Once again, every year, we will remove between four to five players because they are either a) not in school, b) taking a semester off of school, or c) have started the year, but then dropped out of school. Removing an athlete from this list because they have dropped out of school, is probably one of the harder things the scouting bureau has to do, however, we strongly believe that young student-athletes should use football as a tool to get the very best education they can get. They shouldn't use school to play football.
Quality of league
We touched on this in the highlight film point, if you are the world's greatest player playing in the worst conference that is a red flag for us. If you truly want to compete, you will have to find a way to play the highest level of football you can. If that means transferring to a school that takes football seriously, that may be something you may want to consider.
To develop as a player, you need to practice against other players who are just as hungry and competitive as you are and are pursuing improvement on a daily basis. If your entire highlight film shows you dominating average to below average competition, my question to you would be, can you do it at the next level?
Combine testing
Parents always ask about camps and combines. Earlier this year, I wrote an article regarding this. The one big thing I will emphasis about combines is that you need to train for them and you need to be in great shape when you attend them. If you show up at a combine and you run an awful 40-yard dash and then follow that up with an unimpressive display in positional drills, I would venture to say you are probably not helping your cause.
However, combines and other testing events, can be beneficial if you go there and you light it up. Coaches from professional all the way down to high school love testing scores. They love fast 40's, multiple reps on the bench, and all the standardized tests that have been made popular by the NFL combine. However, when we evaluate, we take these test scores with a grain of salt because we will pull up someone's electrically timed 40 and we'll play it right beside their highlight film and it is completely obvious that that young athlete does not run a sub 4.5 electric time.
Teams you play on (high school, all-star, provincial, national)
If you are a true competitor, you won't be happy with just playing on your high school team. If you are an outstanding player, you probably will be an all-conference, all-district, possibly CFC All-Canadian. These accolades will lead to invitations to try out for other teams that represent provinces or your country. When a young student-athlete competes at every level that they are capable of playing on, that wins points in the evaluation process.
The problem with these teams is they are not an accurate representation of the best football players in the country. They more accurately represent the best players who can afford the money to be on these teams, which is a whole other article that I will expand on down the road. However, if you play on a provincial team or a national team and you light it up, that goes a long way to showing the scouting bureau that you are a legitimate prospect.
Social Media
This has become something we have slowly started to include in our evaluation process over the last year or so. It's not a deal breaker, however, there have been one or two occasions when a prospect's social media was so ridiculous from the standpoint of inappropriateness that we felt it spoke to the character of the young person and we made the decision to exclude them from the list.
Whether you are attempting to be evaluated, we believe that it is in your best interest to be very aware of what you are doing, saying, and posting on the various forms of social media that the general public has access to.
–
When we look at the 2017 list and consider that it's merit based, which means all you need is talent to be on it, out of the top prospects from 2017, 24 athletes went on to NCAA major college programs, a few mid-major programs, and two young men who could have gone to the NCAA, however, they were unable to qualify and will be attending junior college.
Another 63 of these athletes will be moving on to U Sports programs and will have the opportunity to be major contributors at some point in their career at various institutions. Let's remember that U Sports now allows football programs to either pay a student's tuition or $4500 of it. This means that there is tremendous opportunity in U Sports for getting a fantastic education at very low cost.
Between both sets of players mentioned above, that brings our number to 87 of the CFC100. From last year's list, 87% of our top prospects went on to play university football. That leaves us with 13 players who have not yet committed or are not attending school or playing football. Out of those 13, three have re-classified to the class of 2018, one will be attending Cegep next year,  and the remainder simply don't have the marks to go on or have not made a decision. It's my experience that when a decision lasts this long it's usually because the school is doing everything they can to get them into school, but that the athlete's marks just aren't good enough.
Hopefully this answers a few of the questions that we have been asked and demonstrates to all the young prospects out there the importance of getting your name out there. However you need to do that, you need to get your name out there so people know about you. If you are good enough, CFC will help you with that based on merit.
1) Kickers & Punters are not included in the CFC100
2) The CFC100 is updated on a regular basis. A date will indicate the last update. CFC scouts attend camps, clinics, tournaments, games and other football functions to continual update their database. GAME HIGH LIGHT VIDEOS & GAME VIDEOS (Youtube or HUDL) are your next best sales tool.
3) Players or their coach can declare they are or have become part of the CLASS 2018 by posting their highlight video on CFC – CLICK HERE . Please email all inquiries, changes, nominations to the Scouting Bureau.
4) Junior College and CEGEP players will now be eligible for the CFC60 prospects list.  QUEBEC high school players are now eligible for the CFC100.
5) Criteria includes but not only includes: Athletic potential, athletic frame, NCAA & CIS scholarship offers, football ability, football potential. You must be on track to qualify as a 'National' in the Canadian Football League draft (CFL).
---
LEGEND:
QB = Quarterback
ATH = Athlete / Multi position [i.e. QB & REC]
OL = Offensive Line
OG = Offensive Guard
RB = Running backs (including fullbacks)
REC = Wide receivers, insider receivers
TE = Tight End
DL = Defensive Line
DE = Defensive End
DT = Defensive Tackle
LB = Linebacker
DB = Defensive Back
---
CFC Scouting Bureau
The Canadafootballchat.com (CFC) Scouting Bureau is comprised of CFC scouts, selected private scouts, selected college coaches, and other professional contributors. Coaches/players can email game film and STATS to the CFC Scouting Bureau for consideration.
About Canadafootballchat.com
Canadafootballchat.com (CFC) is the number one (source: comScore.com) and most respected national recruiting and high school news site. CFCs mission is to promote Canadian football players in the high school recruiting cycle.
About the 'CFC Insider'
The CFC Insider exclusive membership section gives you access to:
exclusive recruiting articles
exclusive player profiles
member-only FORUM section
exclusive team recruiting class rankings
exclusive player class rankings