Browns standout's interests wide open
St. Francis Browns slotback Alex Groshak has a fast paced summer ahead of him.
Alex Groshak
Positions:
Slotback, Wide Receiver, Special Teams (Kick/Punt Return)
Height/Weight:
6'0, 175lbs
Teams:
St. Francis Browns (high school: CSHSAA)
Calgary Cowboys (midget: CAMFA)
Commitment:
None
Official Visits:
None
Considerations:
Open
Class:
2017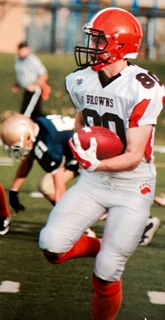 Since 2008, Alex has been part of the Calgary Cowboys organization.  He was awarded Rookie of the Year in his first year.
The slotback was also awarded the Cowboys Most Improved Player Award  (2009), Offensive MVP (2011) and Navy Team MVP (2013).
This season, he was selected as a Calgary and Area Midget Football Association (CAMFA) All-Star.
Last year, Alex played with the Calgary Summer Games team, and was the co-winner of the MVP Offensive Back Award during his time with junior varsity St. Francis Browns of the Calgary Senior High School Athletic Association (CSHSAA).
To better his game for next season,  the slotback is going to focus on weight training, improving his route running and his vertical.
The dual citizen's summer plans are to continue training at Sports Training Academy and to improve speed and strength.
As for his recruitment process, he has made no official visits but is open to any options when it comes to universities.
However, Alex knows he wants to enter school in either Canada or the United States despite being unsure of what he will pursue academically.
"It's been good so far,"  adds Alex about the process.
Alex says he is inspired by those who've instructed him on the gridiron.
"The coaches and teammates I've played with over the years," says the Browns standout.
About Canadafootballchat.com
CFC is the number one national amateur football website (source: ComScore.com) and most respected source for high school and recruiting news in Canada.
About the 'CFC Insider'
The 'CFC Insider' section is for the fan, player, coach, parent, looking for MORE. The mission of this exclusive membership section is to give more recruiting news, exclusive rankings and multi-series stories as well as coach-player instructional videos.
As a CFC INSIDER member, you will have access to:
Become a CFC Insider MEMBER today!
SUBSCRIBE NOW