The Fox 40 Prospect Challenge (FPC) is a series of elite showcase games that feature the best tackle football players from across Canada aged 12-19 years. Tournaments are played in Central Canada (ON) and the West Coast (BC).
GET REGISTERED! GET COACHED! GET RANKED!
Notable FPC alumni in NCAA/CFL include:
Nathan Rourke (Ohio), Nathaniel Anderson (CFL/Missouri), Sage Doxtater (New Mexico State),  Josh Palmer (Tennessee), Chase Brown (Illinois), Sydney Brown (Western Michigan), Jesse Luketa (Penn State), Tyrell Richards (Syracuse), Cole Burniston (Buffalo), Nick Mardner (Hawaii), Kyle Hergel (North Dakota), Liam Dobson (Maine), Michael Allain (Robert Morris), Jake Zergiotis (UConn), Arthur Hamlin (Colgate), Kail Dava (Tennessee Tech), Jett Elad (Ohio), Kurleigh Gittens Jr. (CFL), Scott Hutter (CFL), Phil Iloki (CFL).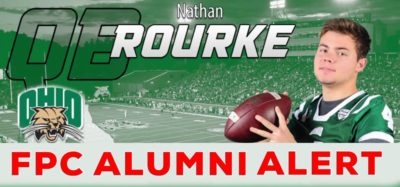 Where is it? When is it?
| | | | | | |
| --- | --- | --- | --- | --- | --- |
| Date | EVENT | LOCATION | Time | Facility | Facility |
| Sun Nov 10th | OPEN – Tryout | Aurora | 12-2:30 | St Andrew's College | Outdoor |
| Fri Nov 15th (PA day most of Ontario) | OPEN – Tryout | Burlington | 12-2:30 | Sherwood Park dome | Indoor |
| December | OPEN – Tryout | British Columbia | TBD | Burnaby | Outdoor |
WHY SHOULD A PLAYER PARTICIPATE?
RECRUITING: Identified / recruited by top university programs **last three year 292 FPC alumni were recruited to U Sports & NCAA schools
RECRUITING: Many FPC "Top 100" players interviewed & profiled on Canadafootballchat.com by CFC Journalist
RECRUITING: Identified by class ranking scouts (CFC100/CFC150/CFC60), & TSN (CANADAFOOTBALLCHAT.COM PROSPECT GAME)
COMPETITION: Compete against the best
BROADCAST: LIVE &/or archived broadcast of all games on Canadafootballchat.com
SWAG
AVOID THE FRAUDS: Do not waste your money on combines or showcases that have no value
What ages can attend?
All high school aged football players in the following graduating classes (2020, 2021, 2022, 2023, 2024) as well as 1st year Cegep players in Quebec
What drills do I have to prepare?
Perform positional 1 on 1 competitive football drills
Showcase yourself at another position – coach may request it
What do I wear?
Proper footwear (outdoor or indoor field turf facility) & appropriate athletic clothing (no football equipment)
PRICING:
SAFETY MEASURES:
We encourage all players to wear mouth guards
If you have had surgery or a concussion in the past 12 months we need a clearance note from a doctor to participate
All events have athletic trainers present
Concussion protocol and education guided by PARACHUTE and CDC 
All Canadafootballchat.com events use certified, professional coaches and follow CFC Harassment and Abuse policies
All Canadafootballchat.com events are properly insured via Lloyds of London through All Sports Insurance Marketing
GET REGISTERED! GET COACHED! GET RANKED!
About Canadafootballchat.com
CFC is the number one national amateur football website (source: ComScore.com) and most respected source for high school and recruiting news in Canada.
About the 'CFC Insider'
The 'CFC Insider' section is for the fan, player, coach, parent, looking for MORE. The mission of this exclusive membership section is to give more recruiting news, exclusive rankings and multi-series stories as well as coach-player instructional videos.
As a CFC INSIDER member, you will have access to:
Become a CFC Insider MEMBER today!
SUBSCRIBE NOW