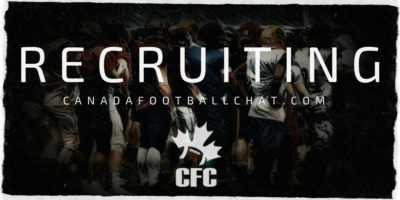 Commits, commits, commits. CFC will do our best to provide you with a synopsis of all the hustle and bustle of the 2018 recruiting season. The following is a look of each conference's recent recruiting highlights plus official visits, and other program and coaching changes that may occur.
Recruiting highlights:
McMaster announces 2018 class
Queen's going hard to the end, add four
Canada West announces 2018 schedule
CLICK HERE for U Sports Commits page
CLICK HERE for U Sports Recruiting Analysis (by team)
This article is for CFC Insiders only
About Canadafootballchat.com
CFC is the number one national amateur football website (source: ComScore.com) and most respected source for high school and recruiting news in Canada.
About the 'CFC Insider'
The 'CFC Insider' section is for the fan, player, coach, parent, looking for MORE. The mission of this exclusive membership section is to give more recruiting news, exclusive rankings and multi-series stories as well as coach-player instructional videos.
As a CFC INSIDER member, you will have access to:
Become a CFC Insider MEMBER today!
SUBSCRIBE NOW