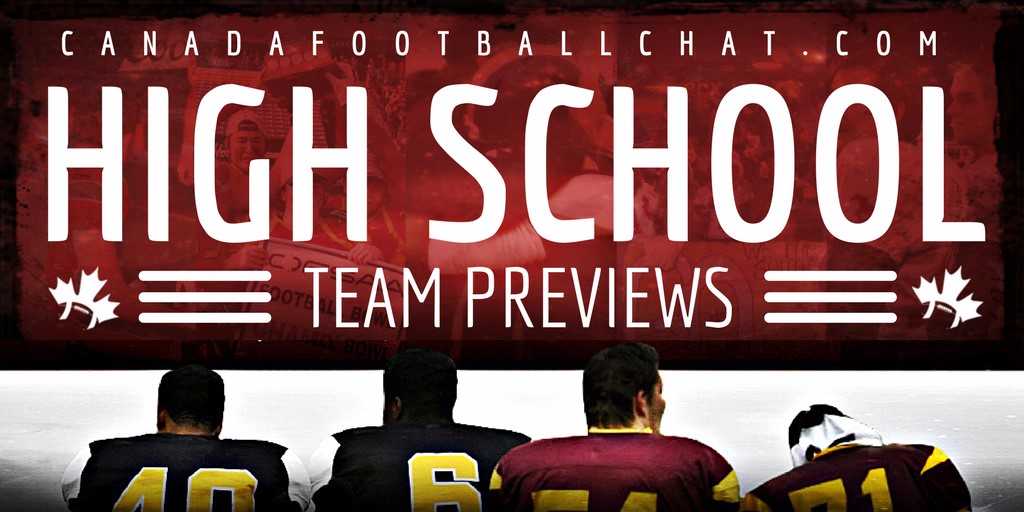 Leading up to the start of the high school season, we will be posting high school team previews from June to September as part of our comprehensive season coverage. CFC has tapped into our network of coaches to produce high school team previews for the 2017 season. The previews highlight top returning players, team strengths, and toughest opponents.
Canadafootballchat.com (CFC) also will bring you the national high school football rankings known as the #CFC50. Last year's final rankings were the most controversial to date…and we heard about it. Whether you agree or disagree, we love hearing from you. For an explanation of how the rankings are computed, please scroll to the bottom of the page.
Eric Hamber Griffins (BCHSFA – Tier II Varsity)
The Eric Hamber Griffins are going into the 2017 season with clear eyes and full hearts as they chase their dream of handing their school their first official title after losing to Pitt Meadows in the 2016 Tier II Championship game.
Entering his 8th season as the Griffins head coach, Bobby Gibson thinks the competition is going to be "tight" this year as they battle it out in the British Columbia High School Football league – Tier II division. However, that isn't going to deter him from leading his team, hopefully, back to the championship game.
The road won't be easy as they will face the Earl Marriott Mariners who will be returning to the Tier II division after playing in the AAA division for 2016. Mariners were the champions in 2014 and 2015 before their move up and the Griffins don't forget that loss to them in 2014 with a final score of 7-6.
Returning quarterback and athlete, Arthur Lee, believes that the Mariners are going to be their toughest opponent.
"This was the team that defeated us in the 2014 championship game and there is a lot of unfinished business against those guys," he explains.
Frank Hurt is another team returning to the Tier II division after a  four year stint in the AA division as well as Spectrum who coach says was probably the most improved team last season and will be a strong contender this upcoming season.
Some key losses for the Griffins are Cedrick Henderson – 2016 MVP and Griffin award winner, 2016 QB – Coach says,
"The first player in team history to fully embrace and desire the role and everything that came with it. He was 100% all-in, all the time and was the heartbeat of the team. He will be next to impossible to replace."
Other losses include Jeffroy Ojong, who was their most dynamic offensive player and led the team in touchdowns and Cameron Geisler, whose leadership and understanding of the game will be difficult to replace according to coach.
That all being said, Coach Gibson has confidence in his team that they will give their all to get back to the top. Due to the size of their program, 90% of the players go both ways and all are considered major players.
It will be up to Lee, who is entering his 5th year as a Griffin and plays quarterback and receiver on offense and linebacker and safety on defense, to lead this team to the finish line.
"Great athleticism, vision and football IQ. Dynamic with the ball – can throw, run and catch," comments Coach Griffin. "Defensively he has great instincts, reads the play well and is a good tackler. He can, and will, do everything on the field for us this year." 
Coach Gibson also said that Lee will be the "X" factor for the team this year in that he is "just a really good football player". He has the hard work ethic on and off the field and plays the game at a high tempo. He is "relentless" in all aspects of the game.
"Our successes will be directly tied to his all season," Coach Gibson states.
No pressure! When we asked Lee his thoughts for the upcoming season. "In my 2017 season, I'm most looking forward to playing my last year of high school football with my teammates that I've been with for 5 years," he explains. "Eric Hamber is yet to win a championship and our grade 12 season will be the last chance to get this done."
He goes on to say, "As far as expectations go, I expect nothing short of a provincial championship. My fellow graduating teammates and I have been working so hard for the last 5 years to make this dream a reality."
With their pivot demanding a high level competition out of his teammates, it will be no surprise then, that other team members will be expected to step up and do their job.
Another such player is 5th year player, Callum Oxley, a receiver and defensive end. Coach Gibson says that Oxley has worked really hard in the off-season to improve his overall size, strength, and speed.
Other players to watch are linemen, Zane Luczyczyn and Rajit Kalia.
"Great motor and nose for the ball on the D-line. Is consistent and has good technique on the O-line," says coach of Luczyczyn. Kalia, on the other hand, is only a grade 11 player, but started as a grade 10 at centre and provided stability on the line. "He has committed himself in the gym this off-season and should be a defining presence for our offence," says coach. 
Kalia is looking forward to seeing how much his teammates have improved and playing new teams this upcoming season. He believes their toughest opponent will be Howe Sound as they are "great opponents".
"When we play each other the game can go either way in order to prepare to play them we will need to work on blitz pick up and stopping their run game," he explained. "My personal expectations are that we return to a championship. We went to a championship this year and we let it slip and I hope we go back to BC place and win a championship."
In addition to the players already mentioned, there are always players that are waiting in the wings and wanting to take their place as starters.
Key returners are QB Sebastian Kondratowski who is an "undersized and underrated" player and has worked hard in the off-season, RB/LB Deniz Senoglu who coach Gibson says will be called upon to take another step forward and play a major role this year.  Finally, OL/DE, Mostafa Hekal, is "quick and dynamic" and will spend a lot of time in opposing backfields this season according to Coach Gibson.
With seven grade 12's and three grade 11's returning, it will be the job of everyone on the team, both offense and defense, to pull up their boot straps and accomplish what they wanted last season. When they are holding the 2017 championship trophy over their heads, with the rest of their school behind them, who can say that "clear eyes, full hearts, can't lose" isn't the truth of it.
Eric Hamber Griffins (BCHSFA – Tier II Varsity)
Head Coach: Bobby Gibson (8th season)
#CFC50 Ranking: n/a
2016 Record: 2-2 (regular season – 2nd overall standings)
Key Returnees: Sebastian Kondratowski (QB), Arthur Lee (QB), Deniz Senoglu (RB/LB), Mostafa Hekal (OL/DE)
Key Losses: Cedrick Henderson (QB), Jeffroy Ojong (REC), Cameron Geisler (LB/OL)
Number of returning starters: 10
"X" Factor: Arthur Lee (QB)
If you would like your high school team previewed, please contact info@canadafootballchat.com.
CLICK HERE FOR 2016 FINAL CFC50 RANKINGS
How is the #CFC50 evaluated?
The #CFC50 rankings considers all conference and non-conference games (in Canada and the United States) while scrimmages are not evaluated (there is no such thing as an exhibition game – those are non-conference games).
Leagues included in rankings: British Columbia AAA Varsity, Alberta Tier One, Saskatchewan 12-man 4A, Manitoba AAA Varsity, Ontario OFSAA Bowl AAA qualified teams, Quebec Juvenile Division 1, New Brunswick 12-man, Nova Scotia Tier 1.
The #CFC50 is a relative ranking that considers top tier leagues from all eight high school playing provinces (minimum one team represented from each province).  The CFC Scouting Bureau consists of twenty-seven CFC Reporters, CFC Scouts, and also selected local reporters and scouts who submit local ranking results on a weekly basis.  This is the eight year that Canadafootballchat.com has ranked the top high school teams in Canada.
Join the conversation online #CFC50

About Canadafootballchat.com
CFC is the number one national amateur football website (source: ComScore.com) and most respected source for high school and recruiting news in Canada.
About the 'CFC Insider'
The 'CFC Insider' section is for the fan, player, coach, parent, looking for MORE. The mission of this exclusive membership section is to give more recruiting news, exclusive rankings and multi-series stories as well as coach-player instructional videos.
As a CFC INSIDER member, you will have access to:
Become a CFC Insider MEMBER today!
SUBSCRIBE NOW