Every week canadafootballchat.com (CFC) will be getting the scoop on what went down in high school football and what's coming up the following week. If you have a game recap or upcoming preview, please submit it to info@canadafootballchat.com.

The first week of playoff action in the Nova Scotia School Athletic Federation High School Football League saw multiple teams continue their winning streaks, setting up some very intriguing matchups this weekend. With the Division 2 Final and Division 1 Semi-Finals set, the league's best teams are ready to battle it out to decide who will take the crown.
Lockview Dragons (16), Horton Griffins (6)
The Dragons were able to build off the momentum from their Week 8 win over the SJA Flames, fighting their way to 16-6 home playoff victory against the Griffins this past Monday.
Connor Clark and Ethan Phinney chipped in rushing touchdowns for Lockview to help secure the win, and the Dragons have now won three straight.
Flames football defeated Auburn tonight 11 – 1 in the quarter final game. Up next Citadel, Sunday Nov. 12th 1pm. Way to Fire it up Flames!

— SJA Athletics (@AthleticsSja) November 6, 2017
Central Kings Gators (48), Millwood Knights (15)
The Gators repeated their success from Week 7, defeating the Knights once again in a 48-15 home playoff game last Sunday.
With an impressive 9-0 record on the season, the Gators appear to be strong favourites heading into the Division 2 final this weekend.
Sackville Kingfishers (28), Halifax West Warriors (31)
The Warriors won a close battle against the Kingfishers last Sunday, managing to come away with a three-point victory in a hard-fought battle.
While Halifax West has not had the season they hoped for with just three wins all year, the team is finding ways to get the job done at just the right time.
J.L. Ilsley Judges (18), Cole Harbour Cavaliers (7)
The Judges kept their season going with a hard-earned 18-7 win against the Cavaliers this past Monday, defeating the Cavaliers for the second week in a row.
We play JL Ilsley on Saturday. They just beat Cole Harbour last night.

— CEC Cougar Football (@CobequidFBall) November 7, 2017
Auburn Drive Eagles (1), SJA Flames (11)
The Eagles fell to the Flames 11-1 last Sunday at home, losing just their second game this season. The Flames put on a defensive performance for the ages, holding a team that had scored an incredible 339 points this season to just a single point. Sunday's loss was a disappointing finish for Auburn Drive, as their productive offence failed to find the success they enjoyed all season long.
Having only lost to SJA and the #CFC50 no. 21 Citadel Phoenix this season, the Eagles certainly have a lot to be proud of when they look back on their 2017 performance.
NKEC Titans (28), Avon View Avalanche (0)
The Titans cruised to a 28-0 playoff win at home against the Avalanche last Sunday, making it back-to-back wins against Avon View.
NKEC has now established some major momentum heading into a tough Division 2 Final, with Sunday's victory being their sixth in a row.
Coming up in the second week of NSSAFFL playoff action…
The Division 2 Final will see the Central Kings Gators (9-0) host the NKEC Titans (7-2) on Sunday at 1:00 p.m. (AST) The two teams have already crossed paths twice this season, with the Gators winning both games decisively in both Week 1 and Week 3. The Gators have enjoyed a perfect season thus far, and the Titans have won six straight.
In Division 1, the Tier 1 Semi-Finals will see the #CFC 50 no. 21 Citadel Phoenix  (8-0) host the SJA Flames (7-2) in a rematch of their Week 5 game where the Phoenix managed to win by a single point. The game is set to kickoff this Sunday at 1:00 p.m. (AST)
The other Tier 1 Semi-Final matchup has the Lockview Dragons (7-2) facing the CPA Cheetahs (6-2) on the road this Sunday at 4:00 p.m. (AST) The two teams previously met in Week 5, when the Cheetahs took the 20-17 home victory.
The Tier 2 Semi-Finals will see the CEC Cougars (3-5) hosting the J.L. Ilsley Judges (4-5) this Saturday at 2:00 p.m. (AST), while the Dartmouth Spartans (4-4) will be hosting the Halifax West Warriors (3-6) this Sunday at 7:00 p.m. (AST) The Spartans beat the Warriors back in Week 4 by a score of 16-12.
*CFC50 teams will not be featured here. You will find them in the #CFC50 GOTW Previews and Recap articles. Some information was not available at press time. It will be added as it becomes available. All quotes are obtained firsthand unless otherwise stated. Let us know if there are any inaccuracies in the reports below.

CLICK HERE for 2017 high school previews
CLICK HERE for 2017 high school scores with SCORESTREAM
CLICK HERE for 2016 Final Rankings
The Fox 40 Prospect Challenge (FPC) is a series of elite showcase games that feature the best tackle football players from across Canada aged 10-19 years. Tournaments are played in Central Canada (ON) and the West Coast (BC).
CLICK HERE FOR #CFCFPC FACEBOOK PAGE – CENTRAL
CLICK HERE FOR #CFCFPC FACEBOOK PAGE – WEST COAST
GET REGISTERED! GET COACHED! GET RANKED!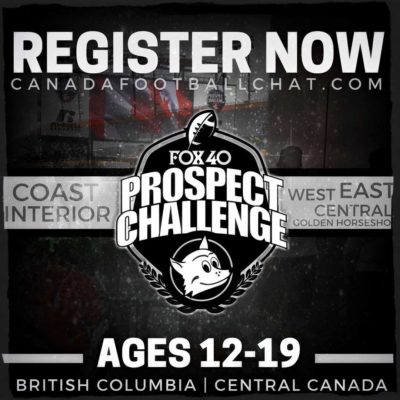 About Canadafootballchat.com
CFC is the number one national amateur football website (source: ComScore.com) and most respected source for high school and recruiting news in Canada.
About the 'CFC Insider'
The 'CFC Insider' section is for the fan, player, coach, parent, looking for MORE. The mission of this exclusive membership section is to give more recruiting news, exclusive rankings and multi-series stories as well as coach-player instructional videos.
As a CFC INSIDER member, you will have access to:
Become a CFC Insider MEMBER today!
SUBSCRIBE NOW