It's the last week of the WHSFL season and that means its bowl time. This year the #4 St. Paul's Crusaders have made their way to their tenth straight Anavets Bowl with the chance of being repeat champions. The last time Stacy Dainard's team repeated as champions was when the Crusaders won titles in 2011, 2012 and 2013.
Kyle Wilfer has never won back-to-back before, but he may get lucky this year. Kyle was on the Crusaders team that won last year and now has his chance to repeat. "I hope this year we can, that is the goal," replied Wilfer.
With a powerful team like St. Paul's it's tough to key in on one player, but Michael O'Shea has been giving his team an edge when needed. "As a wide receiver his catches and his touchdowns are a huge momentum swinger," said Wilfer of O'Shea. In 2017, O'Shea caught 18 passes for 334 yards including 5 touchdowns.
Other players to watch on the Crusaders are quarterback Brody Lawson and Nathan Carabarsakis. Lawson completed 62 passes on the season for 1083 yards and 10 passing touchdowns. Nathan Carabarsakis led the defense with 26 tackles.
In week 4 of the regular season St. Paul's defeated the Dakota Lancers 27-7. If the Crusaders want to achieve the same results in the Anavets Bowl a crucial matchup will be in the trenches. "The trenches really signify how the game is going to be," said Wilfer. "If we have a good game in the trenches, I think we'll be fine."
It's a different tale on the other side for the Dakota Lancers who broke in their home field this season and will play in their first Anavets Bowl title game. The Lancers walked through the Sisler Spartans 42-0 to advance to the finals against St. Paul's.
The Lancers lost their first meeting with Sisler on homecoming and were looking to even the score. Lancers' quarterback Reid Vankoughnett thought the victory was huge for his team. "They beat us on our homecoming and to beat them like that is big for us," replied Vankoughnett.
It hasn't been an easy ride for Reid Vankoughnett. Reid has been on the Lancers since gr.10 when he was a backup and he also played through last year's two win season in grade 11 when he became the starter. I sat down with Reid and asked him what the difference was between the two teams, he replied, "Everyone is here to play, everyone wants to win on this team." Reid was the offensive leader this year passing for 654 yards on 50 attempts while adding 6 passing touchdowns and 8 rushing touchdowns.
Since the first time these two teams met Ray Jarvis' team has been learning to play four quarters consistently. In the first meeting it was a matter of getting things together, they need to play four quarters and they needed to play mistake free football.
For the Lancers to bring back their first Anavets Bowl in team history they'll have to limit their mistakes and make sure they're playing consistently all four quarters.
We at CFC think that the Crusaders will win this game but it will be close as Dakota is playing very good football. Kickoff is 7:30pm at Investors Group Field.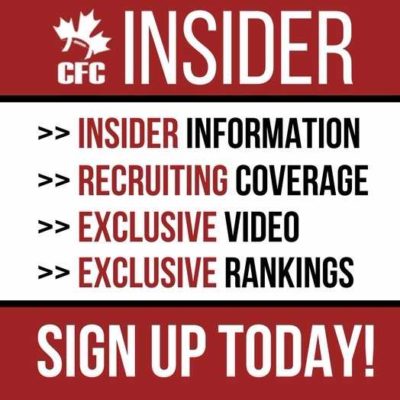 About Canadafootballchat.com
CFC is the number one national amateur football website (source: ComScore.com) and most respected source for high school and recruiting news in Canada.
About the 'CFC Insider'
The 'CFC Insider' section is for the fan, player, coach, parent, looking for MORE. The mission of this exclusive membership section is to give more recruiting news, exclusive rankings and multi-series stories as well as coach-player instructional videos.
As a CFC INSIDER member, you will have access to:
Become a CFC Insider MEMBER today!
SUBSCRIBE NOW