St. Thomas defensive end joins OUA team's 2016 class
Erik Anton has found the CIS program which has the best chance for him to develop on and off the field.
Recently, the 6'5, 205 pound defensive end from St. Thomas, Ontario signed with Guelph Gryphons.  Anton will join the team for the 2016 OUA season.
"I chose Guelph because it had the "Home" feel," expressed Anton of his commitment.  "The staff and students were welcoming."
"The history of the school played a major part. The campus was beautiful and the school has a great reputation for its academic accomplishments. The football program is one of the best in Canada, the resources are incredible. The coaches were extremely important in my decision, they created a family atmosphere. Guelph created an environment where you can go in and grow as a student athlete."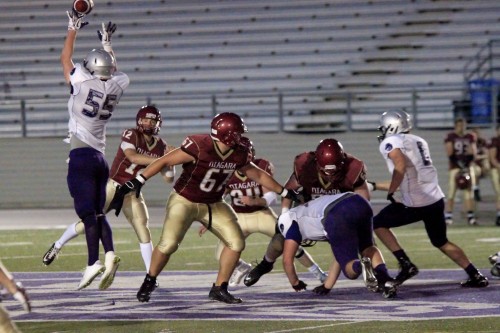 Among the teams the defensive end has suited up for include St. Joseph's Rams of the Thames Valley Region Athletic Association (TVRAA) and London Jr Mustangs of the Ontario Varsity Football League (OVFL).
(twitter: http://twitter.com/vohra_ameeta)
About Canadafootballchat.com
CFC is the number one national amateur football website (source: ComScore.com) and most respected source for high school and recruiting news in Canada.
About the 'CFC Insider'
The 'CFC Insider' section is for the fan, player, coach, parent, looking for MORE. The mission of this exclusive membership section is to give more recruiting news, exclusive rankings and multi-series stories as well as coach-player instructional videos.
As a CFC INSIDER member, you will have access to:
Become a CFC Insider MEMBER today!
SUBSCRIBE NOW