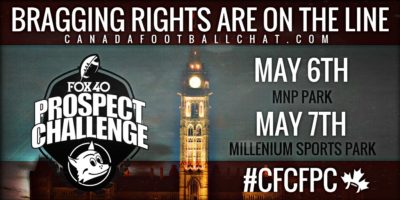 To say the Fox 40 Prospect Challenge (#CFCFPC) is growing is an understatement. This year, we will see two additional provinces participating in the largest Canadian football tournament ever. Both British Columbia and Quebec are sending teams to compete in this year's CFCFPC. In addition, we saw an international minor team play in Hamilton this past weekend from Cleveland, Ohio.
That being said, on Saturday, May 76th at 4:00pm, the Ontario Team East all-stars will play against the QMFL all-stars at MNP Park (Carleton). We had a chance to catch up with some of the players from the QMFL team to get their thoughts on the upcoming match.
This article is for CFC Insiders only
About Canadafootballchat.com
CFC is the number one national amateur football website (source: ComScore.com) and most respected source for high school and recruiting news in Canada.
About the 'CFC Insider'
The 'CFC Insider' section is for the fan, player, coach, parent, looking for MORE. The mission of this exclusive membership section is to give more recruiting news, exclusive rankings and multi-series stories as well as coach-player instructional videos.
As a CFC INSIDER member, you will have access to:
Become a CFC Insider MEMBER today!
SUBSCRIBE NOW