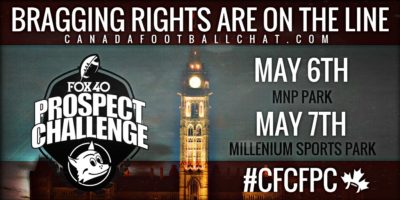 This weekend at MNP Park, Carleton University's athletic field in Ottawa, the selected players from the Quebec Midget Football League (QMFL), who make up the league's All-Star team, will be taking to the field for their clash against Team East Canada. This 4:00 PM matchup for the varsity age group will be the second game taking place on Saturday, during what is the Fox 40 Prospect Challenge's (#CFCFPC) second weekend of tournament action this year.
This article is for CFC Insiders only
About Canadafootballchat.com
CFC is the number one national amateur football website (source: ComScore.com) and most respected source for high school and recruiting news in Canada.
About the 'CFC Insider'
The 'CFC Insider' section is for the fan, player, coach, parent, looking for MORE. The mission of this exclusive membership section is to give more recruiting news, exclusive rankings and multi-series stories as well as coach-player instructional videos.
As a CFC INSIDER member, you will have access to:
Become a CFC Insider MEMBER today!
SUBSCRIBE NOW