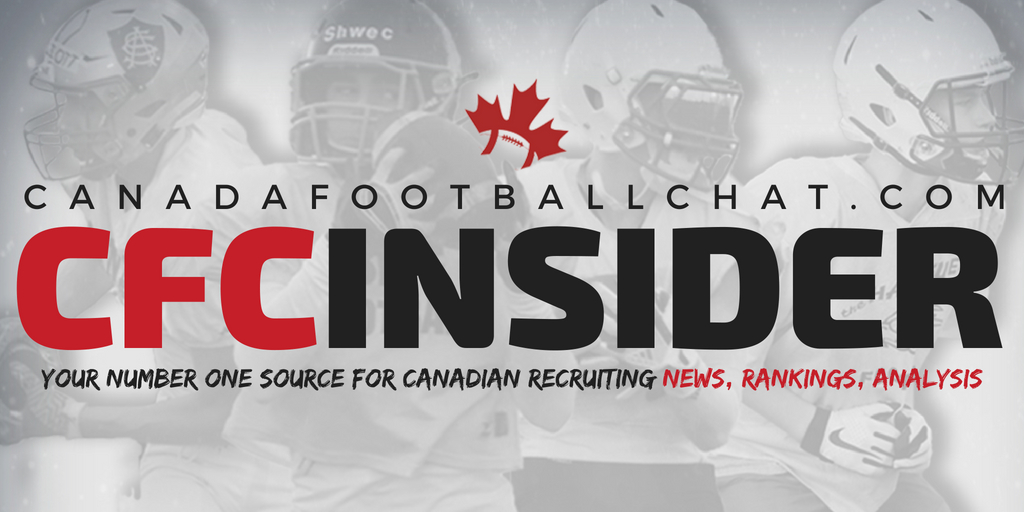 For all your recruiting and player news, we've got you covered with the most in-depth analysis and insider information you'll find in Canada.
As a CFC INSIDER member, you will have access to:
Become a CFC Insider MEMBER today!
It's that time of year again when canadafootballchat.com (CFC) ranks all 27 U Sport program's recruiting classes. Every week, CFC will be updating total points and average points per player. All U Sport teams are fully up to date with the U Sport Commits page.
Teams are ranked by two different categories: (1) TOTAL POINTS and; (2) AVERAGE PER PLAYER
CFC employs a point system based on the recruits declared in the recruiting class on CFC:
Players are rated based on (a) CFC100/60 rankings (b) 4-star ranking (c) 3-star ranking (d) NR
POINTS NOT ALLOCATED to (a) Transfers – they would have acquired points in their original class year; (b) International commits who ONLY played outside of Canada prior to U Sports commitment
CFC27 is updated approximately once per week (there can be a lag of a few days behind the U Sports commit list)
Teams are not ranked until they have a minimum of 5 players on their commit list
The University of Alberta has got a huge head start in total points at 307 in Canada West with 12 commits already throwing their name into the hat. With four CFC100s on the board, they no doubt are trying to keep their home grown talent in their own backyard, they definitely have a bunch in the Edmonton area with CFC50 teams with the likes of Harry Ainlay and Salisbury.
Sherbrooke started earlier in the summer signing their 2019 commits, they already boast 16 commits and sit in second place for total points. However, they slink to fourth place in the points per average player. Manitoba continues their tradition of getting quality players to commit and boost their class with 6 commits, 4 of those CFC100s. You can see how the quality increases the class with their points per player at which they sit in first place with their 173 point total.
McGill is in the top 5 for total points with 6 commits.
Want to see where everyone else sits? Become a CFC Insider today to view all 27 U Sport teams and where their recruiting efforts place them.
TOTAL POINTS:
| # | Team | Commits | CFC 100/60 | Total |
| --- | --- | --- | --- | --- |
| 1 | Carleton | 35 | 9 | 960 |
| 2 | Laval | 27 | 9 | 931 |
| 3 | Regina | 42 | 9 | 914 |
| 4 | Queen's | 34 | 10 | 905 |
| 5 | British Columbia | 33 | 9 | 859 |