The "
Canadafootballchat.com Prospect Game SHOWCASE

" is an opportunity to show off your skills in front of the CFC Scouting Bureau & college coaches.  All SHOWCASES are filmed and evaluated for future CFC100 ranking lists and for an

invite to the CANADAFOOTBALLCHAT.COM PROSPECT GAME TRYOUTS IN MARCH 2019

.

Where is it? When is it?

What ages can attend?

It is for all high school aged football players in the BORN IN 2002 OR 2003 [NOTE: 2004 can attend to showcase for 2020 game and CFC100 ranking lists]

What information will college coaches get? 
Testing results and player positional ranking
How do I register?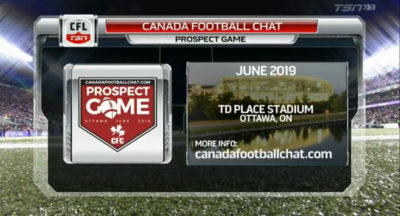 What drills do I have to prepare?
Be prepared to perform positional 1 on 1 competitive football drills
Be prepared to run a 40 yard dash, shuttle run, vertical jump and broad jump if requested
Be prepared to showcase yourself at another position that the coaches may want to see you at
What do I wear?
Proper footwear (indoor field turf facility) & appropriate athletic clothing (no football equipment).
A numbered showcase T-Shirt will be provided.
PRICING:
$99 + HST
SAFETY MEASURES:
(a) we encourage all players to wear mouth guards 
(b) If you have had surgery or a concussion in the past 12 months we need a clearance note from a doctor to participate
(c) All events have athletic trainers present 
(d) concussion protocol and education guided by PARACHUTE and CDC 
(e) ROLES & RESPONSIBILITIES OF PARENTS AND ATHLETES
(f) All Canadafootballchat.com events use certified, professional coaches and follow CFC Harassment and Abuse policies
(g) All Canadafootballchat.com events are properly insured via Lloyds of London through All Sports Insurance Marketing
About Canadafootballchat.com
Canadafootballchat.com (CFC) is the number one (source: comScore.com) and most respected national recruiting and high school news site. CFCs mission is to promote Canadian football players in the high school recruiting cycle.
About the 'CFC Insider'
The CFC Insider exclusive membership section gives you access to:
exclusive recruiting articles
exclusive player profiles
member-only FORUM section
exclusive team recruiting class rankings
exclusive player class rankings