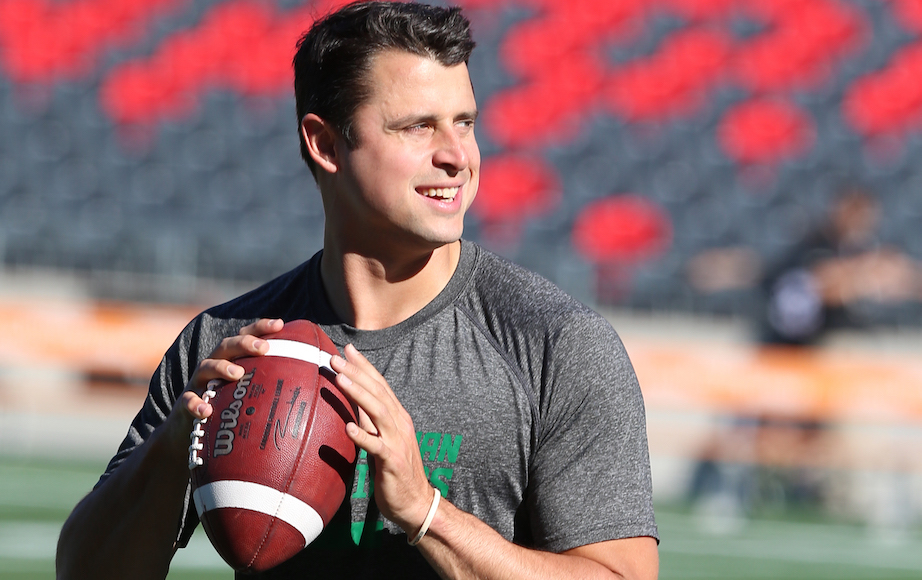 Zach Collaros-Saskatchewan Roughriders Photo: Scott Grant
In a move just near the end of the trade deadline, the Blue Bombers have received some much needed help at the quarterback position. The injured Matt Nichols and the underperforming Chris Streveler are the reason for much of their offensive woes, so they didn't have a problem relinquishing a 2020 third round pick. In addition to this, they will send Toronto a first round pick in this draft if the now 31-year-old Collaros re-signs with the Bombers. This is the veteran's third team this season, but a change of scenery just might be what he needs.
Something Had to Change
The Toronto Argonauts haven't been having such a pleasant season. Currently sitting at 2-12, they've been eliminated from the playoff race after getting destroyed by the British Columbia Lions on the road, 55-8. This was just another footnote in Toronto's tale of turmoil, as they've already fired general manager Jim Popp. As SPORTSBETTING 24 reports, he was immediately replaced by former player and head coach, Mike "Pinball" Clemons.
This move especially resonated with young RB James Wilder Jr. who was brought to the CFL by Popp. He's having a tough season, amassing only one TD and rushing only 323 yards. Such a statline is a far cry from his rookie campaign, when he impressed everyone with a total of 872 yards and averaged an amazing 7.1 yards per carry. This season, however, his bad form contributed to the Argos being at the bottom of the CFL with just 72.1 yards per game.
However, with the Argos already out of the playoffs and in a state of flux, they had to unload some dead weight. Collaros obviously wasn't having a good season, so they packaged him with a future fifth-round selection in the 2020 CFL Draft.
A Fresh Start
Collaros has had quite a turbulent season, as he started the year in Saskatchewan. Things got off to a bad start when he suffered a concussion during opening week. Coincidentally, the team was boosted by the emergence of Cody Fajardo, who had previously been a backup. Without the need for Collaros' services, the Roughriders traded him to Toronto for a fourth round pick.
He previously arrived to regina after a trade with the Hamilton Tiger-Cats. In his sole season there, he had nine TDs, 13 interceptions (in 14 games) and managed to throw for 2,999 yards. It's obvious that he still has a lot left in the tank, despite not playing a single game for the Argos.
Just What They Needed
Don't make the mistake of thinking this was a "charity deal". Collaros addresses a specific need for the now 9-6 Bombers. They've already clinched a playoff spot, but have been unable to enter the W column in the last four games. Much of this has to do with the turmoil at the QB position, with Streveler and Nichols leading them to a 2-4 record in games they've been on the turf.
About Canadafootballchat.com
CFC is the number one national amateur football website (source: ComScore.com) and most respected source for high school and recruiting news in Canada.
About the 'CFC Insider'
The 'CFC Insider' section is for the fan, player, coach, parent, looking for MORE. The mission of this exclusive membership section is to give more recruiting news, exclusive rankings and multi-series stories as well as coach-player instructional videos.
As a CFC INSIDER member, you will have access to:
Become a CFC Insider MEMBER today!
SUBSCRIBE NOW