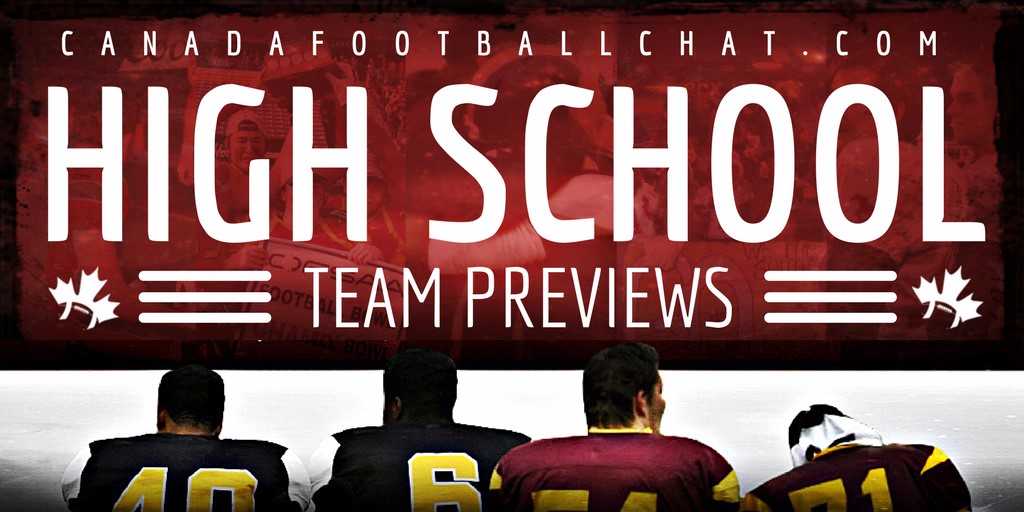 Leading up to the start of the high school season, we will be posting high school/Cégep team previews from June to September as part of our comprehensive season coverage. Canadafootballchat.com (CFC) has tapped into our network of coaches to produce team previews for the 2017 season. The #CFCteampreviews highlight top returning players, team strengths, and toughest opponents.
CFC also will bring you the national high school football rankings known as the #CFC50. Last year's final rankings were the most controversial to date…and we heard about it. Whether you agree or disagree, we love hearing from you. For an explanation of how the rankings are computed, please scroll to the bottom of the page.
Evan Hardy Souls (SHSAA – 3A Conf., Saskatoon, SK)
The Evan Hardy Souls will enter the 2017 campaign with reason for optimism. The Souls will look to rebound on an extremely disappointing 2016 season, after finishing the year 1-7. The boys in blue and gold struggled to make the 3A playoffs, an unfamiliar position for the perennial contender in Saskatoon.
The Souls off-season was a busy one, long serving head coach Jud Heilman is out and will be taking over the reigns for the Walter Murray Marauders. Heilman, a players coach who's been a favourite around the school for the past decade will be missed. Incoming Bret Thomson will look to turn this team around and re enter Hardy in the conversation of Saskatoon's best. He will be making the leap across the river from Bedford Road Collegiate. Thompson is presented with a fantastic opportunity, at a school with a drive to win. Expect new looks in the playbook coming this fall, as the former Redhawk coach will look to make his mark on the team early.
Carter McLean getting the ball in the open field. Photo Credit: Louis Christ
Wyatt Carleton will return for another season as defensive coordinator. The young coach has a passion for football, and a desire to improve his players. Joining Carleton to help guide the defense will be Brian Guebert and Wyatt's father, Ed Carleton, who are both former coaches at the University of Saskatchewan.
The Huskies coaching changes have left these men looking for new opportunities, and the Souls will benefit greatly from their experience. Geubert, the former CFL defensive linemen, served as the special teams coordinator for the Huskies and will now look to use his expertise to develop his defensive . Ed Carleton will return to the school where it all started.
Ed began his coaching career with the Souls, leading them to a city championship in 1992, before moving on to the U-Sports level. He has spent the last 20 plus years as the defensive coordinator at the U of S. His impressive resume with the Dogs includes three Vanier cups and the Gino Francis Trophy for the top U-Sports assistant coach in the nation. It will be interesting to watch the improvements of the players on the defence this season, and the impact that these smart and talented coaches have on the young men at Evan Hardy. "To say our defensive staff got better is a catastrophic understatement." adds Wyatt Carleton.
While the 2016 Souls lacked wins, they didn't lack talent. Graduating QB Caleb Morin signed with the University of Saskatchewan as a receiver and will aim to make an immediate impact. The team will also be losing LB's Graham Dubrieul and Ethan Meyer. Dubrieul, is currently in the midst of a roster spot battle with the Saskatoon Hilltops of the CJFL. Meyer, a strong tackler and key leader on and off the field elected to pursue elite level rugby. Expect a tight battle in training camp for the starting quarterback job between grade 10 Talawa Mudasia and senior Ben Barbier. Mudasia is the clear future under centre for this program and while some growing pains will be expected, glimpses of brilliance will be shown.
Two experienced runners will be returning to the Hardy backfield this fall, both will without a doubt help make life easier for whoever will be starting under centre. Carter McLean is one of the best running backs in the city and will be counted on to carry this offense back to the glory days. McLean, a member of the Saskatoon Minor Football Academy team had a strong spring. The elusive running back ran for 194 yards on 16 carries, along with 2 scores in a scrimmage against Harry Ainlay of Edmonton.
Meanwhile, grade 11 running back Nathaniel Lukan will undoubtedly also play a huge role in the Souls offense. Lukan enters his second season with the senior team and hopes it will be a healthy one. If the powerful runner is able to stay on the field for the majority of the year, he'll provide a big boost to this Evan Hardy team. One of new coming head coach Bret Thompson's first tasks will be to make sure these two talented ball carriers each get their fair share of touches.
Nathaniel Lukan bursting through the hole. Photo Credit: Louis Christ
The defence will face some challenges due to the losses of their two star linebackers. Both Meyer and Dubriuel were gritty players, who played their hearts out each and every snap. Defensive back Evan Mantyka will return for his senior season, and will look to anchor this group.
"Evan has gotten bigger, faster and smarter in his relentless pursuit to be the defensive back in the city" adds Carleton who will rely on Mantyka to be a key playmaker for his defence.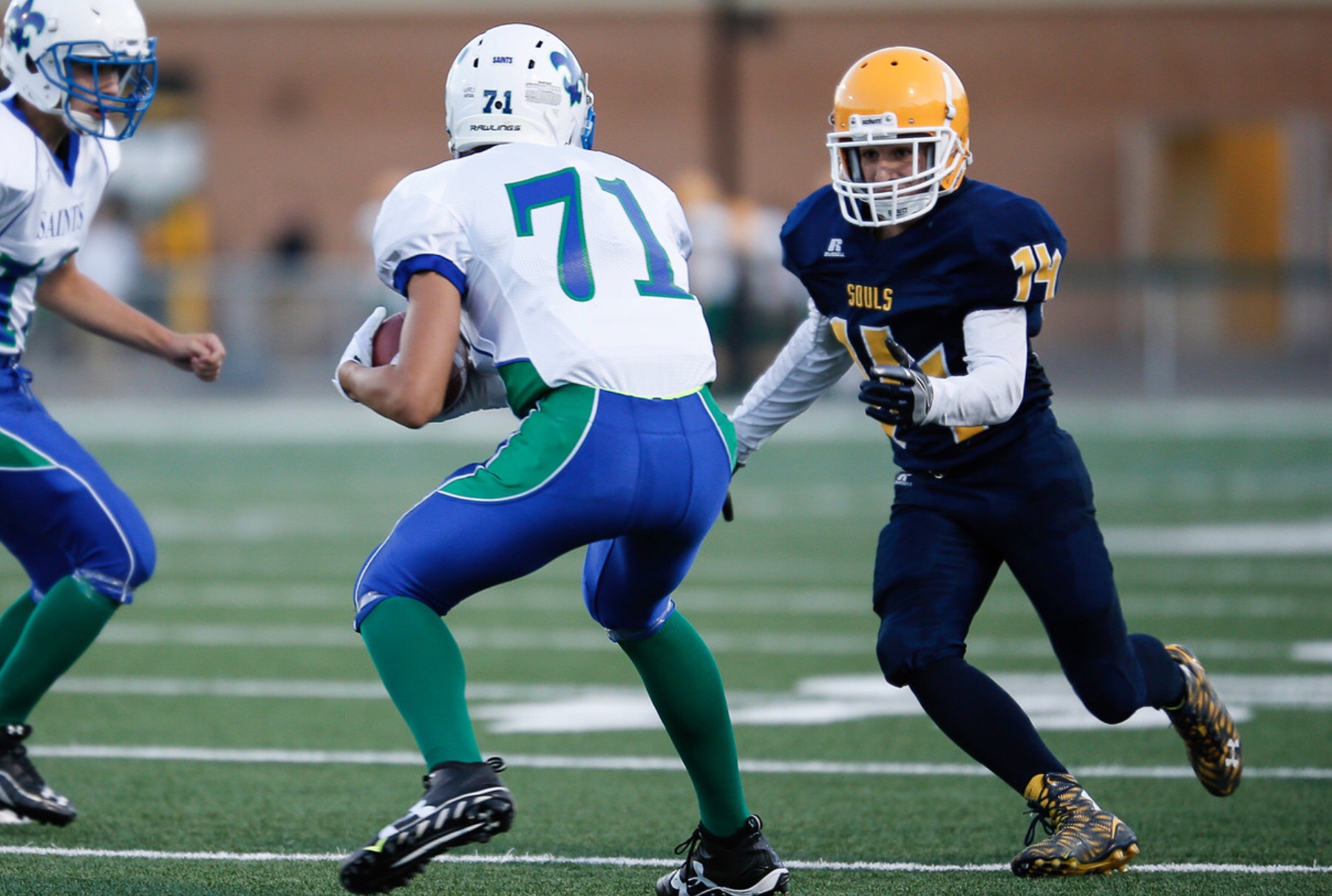 Evan Mantyka preparing to wrap up a reciever. Photo Credit: Louis Christ
Mantyka will also look to share some of his knowledge with grade 11 DB Connor Steer. Steer showed glimpses of stardom in his first year with the senior team last year.
"Connor has the potential to be a lockdown cornerback in Saskatoon." notes Carelton, who will rely on Steer to shut down opponents aerial attack.
A player Carleton lists as an x-factor is grade 12 LB Ivan Kocsis. Kocsis will be faced with a difficult task in replacing Meyer and Dubriuel, however his defensive coordinator believes he's more than capable.
"Ivan took it upon himself to get bigger and stronger to play the position in 2017." adds Carleton, who will heavily count on the linebacker in his senior year.
Other key returnees on the defence include D-linemen Braden Nicklin and Hannan Khan, as well as DB Michael Woytowich.
Hardy will face an uphill climb to regain the control of the 3A conference. Marion Graham along with reigning city and provincial champions Bishop James Mahoney will once again enter the season as the favourites to meet in the city final. However, that doesn't change the Souls hope for the upcoming season.
"Our expectations and goals for 2017 are the same as every team, to be city and provincial champions." Carleton says.
Look for a competitive balance in Saskatoon 3A, filled with many tight, hard fought football games.
Evan Hardy Souls (SHSAA – 3A Conf., Saskatoon, SK)
Head Coach: Bret Thompson (1st season)
2016 Record: 1-7
Key Returnees: DB Evan Mantyka, RB Carter McLean, RB Nathaniel Lukan, REC Ryan Dagenais, REC Blade Wiggins, DB Connor Steer
Key Losses: QB Caleb Morin, LB Graham Dubrieul, LB Ethan Meyer
Number of returning starters: 8 on offence, 8 on defence
"X" Factor: LB Ivan Kocsis
If you would like your high school team previewed, please contact info@canadafootballchat.com.
CLICK HERE FOR 2016 FINAL CFC50 RANKINGS
How is the #CFC50 evaluated?
The #CFC50 rankings considers all conference and non-conference games (in Canada and the United States) while scrimmages are not evaluated (there is no such thing as an exhibition game – those are non-conference games).
Leagues included in rankings: British Columbia AAA Varsity, Alberta Tier One, Saskatchewan 12-man 4A, Manitoba AAA Varsity, Ontario OFSAA Bowl AAA qualified teams, Quebec Juvenile Division 1, New Brunswick 12-man, Nova Scotia Tier 1.
The #CFC50 is a relative ranking that considers top tier leagues from all eight high school playing provinces (minimum one team represented from each province).  The CFC Scouting Bureau consists of twenty-seven CFC Reporters, CFC Scouts, and also selected local reporters and scouts who submit local ranking results on a weekly basis.  This is the eight year that Canadafootballchat.com has ranked the top high school teams in Canada.
About Canadafootballchat.com
CFC is the number one national amateur football website (source: ComScore.com) and most respected source for high school and recruiting news in Canada.
About the 'CFC Insider'
The 'CFC Insider' section is for the fan, player, coach, parent, looking for MORE. The mission of this exclusive membership section is to give more recruiting news, exclusive rankings and multi-series stories as well as coach-player instructional videos.
As a CFC INSIDER member, you will have access to:
Become a CFC Insider MEMBER today!
SUBSCRIBE NOW