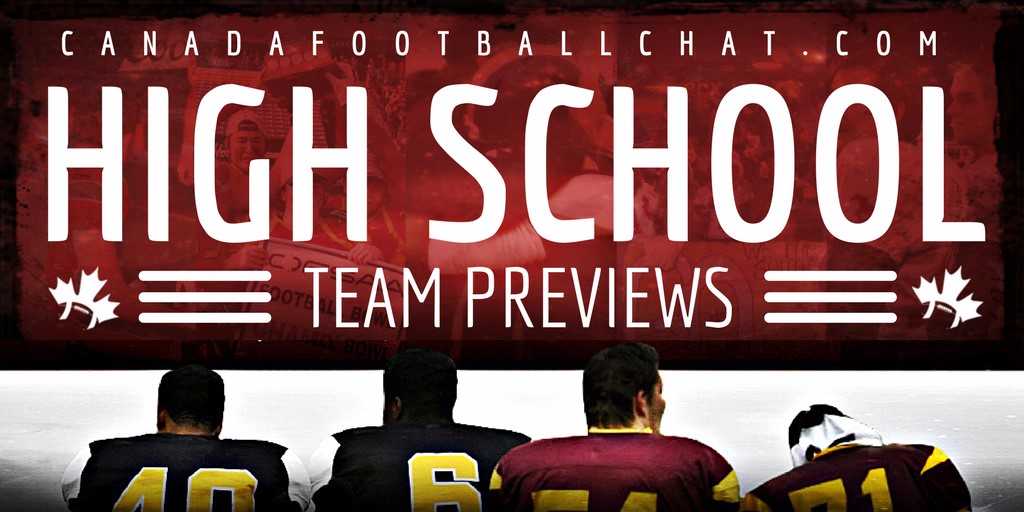 Leading up to the start of the high school season, we will be posting high school/Cégep team previews from June to September as part of our comprehensive season coverage. Canadafootballchat.com (CFC) has tapped into our network of coaches to produce team previews for the 2017 season. The #CFCteampreviews highlight top returning players, team strengths, and toughest opponents.
CFC also will bring you the national high school football rankings known as the #CFC50. Last year's final rankings were the most controversial to date…and we heard about it. Whether you agree or disagree, we love hearing from you. For an explanation of how the rankings are computed, please scroll to the bottom of the page.

J.L. Ilsley Judges (NSSAF – Scotia Div. Halifax, NS)
Coming off a 2-6-0 record from 2016, the J.L. Ilsley Judges are looking to compete with everyone in their division this upcoming season. With a new captain at the helm, Brandon Hart will be entering his first year as head coach with the Judges, however, he has been the defensive coordinator for the team for the past nine years.
It's been 10 years since the Judges joined the Nova Scotia School Athletic Federation (NSSAF). Coach Hart said during that time, they have maintained  a core coaching staff that has grown over the years and now sees several former players and school alumni added to this staff.
"We have established a reputation as a competitive program with sportsmanship, effort, and community at our core," Coach explained.
Developing the players to be able to have success beyond high school is one of the first goals of this coaching staff. With giving maximum effort in everything they do, Coach said that they will win games and be able to compete with any other team in their division. He said that they have done "pretty well" in the past with this type of philosophy and will continue to emphasize this in their program.
In addition to that, "FAMILY", is how Coach Hart describes his program. "We're a family through and through," he said. With remaining consistent in their coaching staff and adding those who have been part of this "family" in the past, you can see why Coach chose this as a description for his team. Being a family has the ability to produce amazing results once everyone buys in. This year will be no different.
Returning 16 starters, 10 on offense and 6 on defense, 12th grader, Brendan Cleveland will be back at the quarterback position. Coach describes him as having a strong arm, is athletic, and is able to keep plays alive with his feet.
"The leader of our offense heading into his third year at the helm, we expect a good season from him as a result of his great work ethic," said Coach Hart of his pivot.
Two other players to keep your eyes on is wide receiver, Alexander Furlotte and linebacker, Ethan Tanner – both 12th graders. Coach Hart said that Furlotte is a "good route runner" and is very versatile. Furlotte is capable of producing big plays from anywhere on the field. Having "natural nose for the ball", Tanner contains the edge and is excellent in pass coverage. Coach said he is also an aggressive tackler.
Furlotte was the offensive MVP of the Judges last season and a division one all-star. He said that he is looking to improve for this next season and become more of a leader and captain of the team. We spoke with Furlotte and he said this of the upcoming season;
"I believe me and the rest of the offensive guys are going to be really excited about having a full grade 12 starting line this upcoming season for our starting offensive skill players. The entire team will be very excited for our new head coach and all his new energy!
This year the team is first and I want to inspire my teammates to do the best they can. I want our team to have a great season record and go deep as possible if not win the playoffs, I want this talented JL Ilsley Judges team to be remembered."
Furlotte goes on to say that he believes that their toughest opponent will be Citadel.
"They always have a well coached packed team with great players, they also have about a 60 man roster therefore they don't get tired," he explained. "Our smaller team has really focused on off-season strength and conditioning to keep up with the big schools in our league for all four quarters."
One last player that has the potential to be a game changer is defensive back and wide receiver, Joseph Fiander. Another player entering grade 12, he has only played one previous season of football. Coach Hart said this of his "X-factor":
"Joe made immediate impact as a Defensive Back making tackles sideline to sideline, grabbing multiple interceptions, and instantly cracking the roster as a starter. He continues to play more football in a local 7v8 Passing League held in the off-season where he has excelled as both a defensive back and receiver. We expect his size, speed, and hands to give opposing teams trouble on both sides of the ball."
Some of the key players last year that are headed on to post secondary programs include, receiver, Jack Underhill who is going to the Dalhousie Tigers, linebacker, Nathan Whidden also going to the Dalhousie Tigers, defensive back, Jamil Saoud – Saint Mary's University Huskies, and offensive lineman. Peter Ordinelli, off to Mount Allison University.
That being said, the Judges will be playing to the strength of their roster. They prefer to take to the air on offense and utilize multiple fronts on defense. Depending on who they play each week, the competition is strong in the Scotia division and every game is a challenge.
"I'm personally excited to play Halifax West as we always have played each other hard and have developed a healthy rivalry," mentioned Coach Hart. There is always one team that gets everyone riled up – looks like this is the matchup to look for this upcoming season.
With other returning players; receivers Andrew Shipp and Chris Perry, running back Connor Wry, defensive end Kameron Casey, and defensive tackle Joey Anderson, the Judges look to be pretty well established and could take the division for a run to the top if they stick with their game plan. Family has a way of coming together in times of challenge and times of success, this upcoming season look for the Judges to bring their big family out in a big way.
J.L. Ilsley Judges (NSSAF – Scotia Div. Halifax, NS)
Coaching Staff: Brandon Hart (Head Coach/Defensive Coordinator), Tyler LeBlanc (Offensive Coordinator/Receivers Coach), Ben LeBlanc (QB Coach), Matt Shaw (Offensive Line Coach), Chris Keigan (Offensive Assistant), Jacob LeBlanc (Defensive Line Coach), Chris Walker (Linebackers Coach), George Saoud (Defensive Backs Coach/Special Teams Coordinator), Todd Sisco, Jacob Brown (Defensive Assistants), Malachi Fralick (Strength & Conditioning Coach)
#CFC50 Ranking: n/a
2016 Record: 2-6-0
Key Returnees: WRs Andrew Shipp, Alexander Furlotte, Chris Perry + QB Brendan Cleveland & RB Connor Wry.  LB Ethan Tanner, DB Joseph Fiander, DE Kameron Casey & DT Joey Anderson
Key Losses:WR Jack Underhill (Dalhousie Tigers), LB Nathan Whidden (Dalhousie Tigers), DB Jamil Saoud (Saint Mary's University Huskies), OL Peter Ordinelli (Mount Allison University)
Number of returning starters: 16
"X" Factor: DB/WR (#4), Joseph Fiander
If you would like your high school team previewed, please contact info@canadafootballchat.com.
CLICK HERE FOR 2016 FINAL CFC50 RANKINGS
How is the #CFC50 evaluated?
The #CFC50 rankings considers all conference and non-conference games (in Canada and the United States) while scrimmages are not evaluated (there is no such thing as an exhibition game – those are non-conference games).
Leagues included in rankings: British Columbia AAA Varsity, Alberta Tier One, Saskatchewan 12-man 4A, Manitoba AAA Varsity, Ontario OFSAA Bowl AAA qualified teams, Quebec Juvenile Division 1, New Brunswick 12-man, Nova Scotia Tier 1.
The #CFC50 is a relative ranking that considers top tier leagues from all eight high school playing provinces (minimum one team represented from each province).  The CFC Scouting Bureau consists of CFC Reporters, CFC Scouts, and also selected local reporters and scouts who submit local ranking results on a weekly basis.  This is the eighth year that Canadafootballchat.com has ranked the top high school teams in Canada.


About Canadafootballchat.com
CFC is the number one national amateur football website (source: ComScore.com) and most respected source for high school and recruiting news in Canada.
About the 'CFC Insider'
The 'CFC Insider' section is for the fan, player, coach, parent, looking for MORE. The mission of this exclusive membership section is to give more recruiting news, exclusive rankings and multi-series stories as well as coach-player instructional videos.
As a CFC INSIDER member, you will have access to:
Become a CFC Insider MEMBER today!
SUBSCRIBE NOW