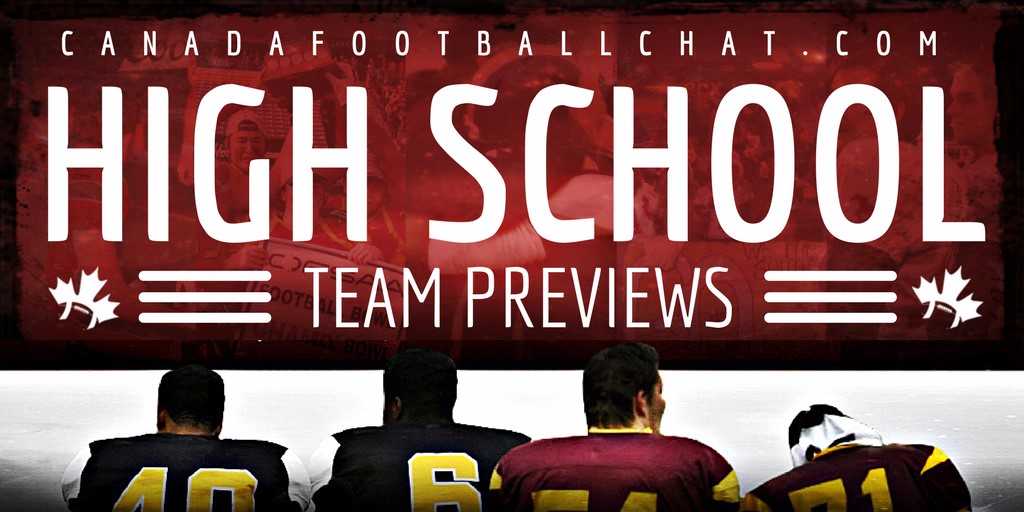 Leading up to the start of the high school season, we will be posting high school/Cégep team previews from June to September as part of our comprehensive season coverage. Canadafootballchat.com (CFC) has tapped into our network of coaches to produce team previews for the 2017 season. The #CFCteampreviews highlight top returning players, team strengths, and toughest opponents.
CFC also will bring you the national high school football rankings known as the #CFC50. Last year's final rankings were the most controversial to date…and we heard about it. Whether you agree or disagree, we love hearing from you. For an explanation of how the rankings are computed, please scroll to the bottom of the page.
Kelly Road Roadrunners (BCHSFB – AA North Conf., Prince George, BC)
The Kelly Road Roadrunners expect to finish in the "top 3 in the Northern Conference" despite not having a senior team in 2016.
They are a "balanced" squad and want to be sound defensively this season.
"We will be a more defensive focused team this year as most of our team is currently Grade 11 so there will be a learning curve to expanding the playbook for varsity," Roadrunners head coach Ryan Bellamy explained.
Bellamy and his coaching staff will be stressing the importance of hard work.
"Hard work beats talent," he said. "We will have a team that is young with a lot of athletic potential that will come quickly with hard work and commitment to the team systems."
There are a couple teams who will give the Roadrunners a run for their money.
"Prince George Secondary School (Polars) are the favourite as they went undefeated last year in JV in our conference and have some good returning seniors," Bellamy said. "Duchess Park Secondary (Condors) will be in a rebuild but will be competitive with the return of RB Coburn Pearce who can take over games on his own. We will be in the mix, we have a good balance of size, speed and skill. If we can stay healthy, we should be highly competitive."
Josiah Harder (Grade 11) will be their field general this season.
"He is entering his second full season as a QB, he has a great arm and can check it down or air it out, but his ability to run the ball keeps the defence on its feet," he said. "If they pressure, he can get it to the receivers, if they play solid coverage, he can find a lane and control the offence on the ground."
In addition to Harder, they have a hand full of other team members who will be in the spotlight.
RB Jordan Parent (Grade 11) is a "physical downhill runner who likes to live in the middle of the field racking up hard yards." WR TJ Nyberg (Grade 11) is a "good route runner with good hands and finds holes in opposing defences."
LB Justin Richard (Grade 11) is a "physical run-stopping defender who never takes a play off." LB Trenton Griffith (Grade 11) is known for having a "great nose for where the play is going and takes good lines to the ball and makes smart tackles when he gets there." And last but not least, SS Nicolas Wilson (Grade 11) plays a "well-rounded game" and is "physical through the middle and closes off the pass game with strong fundamental skills."
The Roadrunners have 11 players who made the leap from junior to senior this year.
TJ Nyberg is someone who could be an "X" factor.
"He is a gamer with the ability to take over on either side of the ball and really be a difference maker when needed," Bellamy said.
Kelly Road Roadrunners (BCHSFB – AA North Conf., Prince George, BC)
Head Coach: Ryan Bellamy (12th season)
2016 Record: N/A
Key Returnees: QB Josiah Harder, RB Jordan Parent, WR TJ Nyberg, LB Justin Richard, LB Trenton Griffith, SS Nicolas Wilson
Key Losses: N/A

If you would like your high school team previewed, please contact info@canadafootballchat.com.
CLICK HERE FOR 2016 FINAL CFC50 RANKINGS
How is the #CFC50 evaluated?
The #CFC50 rankings considers all conference and non-conference games (in Canada and the United States) while scrimmages are not evaluated (there is no such thing as an exhibition game – those are non-conference games).
Leagues included in rankings: British Columbia AAA Varsity, Alberta Tier One, Saskatchewan 12-man 4A, Manitoba AAA Varsity, Ontario OFSAA Bowl AAA qualified teams, Quebec Juvenile Division 1, New Brunswick 12-man, Nova Scotia Tier 1.
The #CFC50 is a relative ranking that considers top tier leagues from all eight high school playing provinces (minimum one team represented from each province).  The CFC Scouting Bureau consists of CFC Reporters, CFC Scouts, and also selected local reporters and scouts who submit local ranking results on a weekly basis.  This is the eighth year that Canadafootballchat.com has ranked the top high school teams in Canada.
About Canadafootballchat.com
CFC is the number one national amateur football website (source: ComScore.com) and most respected source for high school and recruiting news in Canada.
About the 'CFC Insider'
The 'CFC Insider' section is for the fan, player, coach, parent, looking for MORE. The mission of this exclusive membership section is to give more recruiting news, exclusive rankings and multi-series stories as well as coach-player instructional videos.
As a CFC INSIDER member, you will have access to:
Become a CFC Insider MEMBER today!
SUBSCRIBE NOW