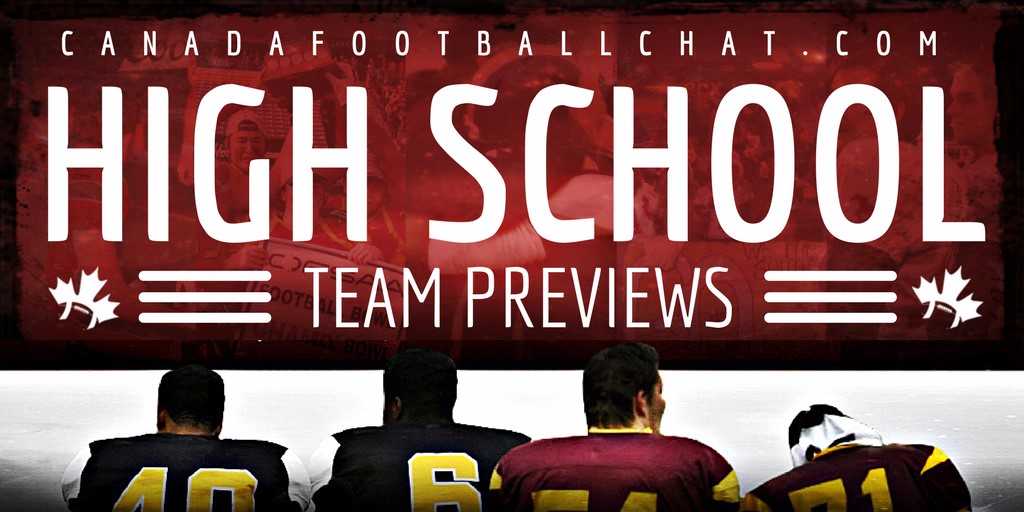 Leading up to the start of the high school season, we will be posting high school team previews from June to September as part of our comprehensive season coverage. Canadafootballchat.com (CFC) has tapped into our network of coaches to produce high school team previews for the 2017 season. The #CFCteampreviews highlight top returning players, team strengths, and toughest opponents.
CFC also will bring you the national high school football rankings known as the #CFC50. Last year's final rankings were the most controversial to date… and we heard about it. Whether you agree or disagree, we love hearing from you. For an explanation of how the rankings are computed, please scroll to the bottom of the page.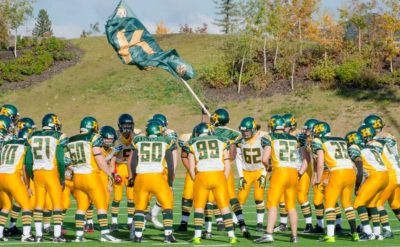 Holy Trinity Knights (ASAA/FMFL – Tier 2, Fort McMurray, AB )
The Holy Trinity Knights are fierce contenders within the Fort McMurray Football league.
In past seasons, the Knights have accomplished back-to-back 2014/2015 title wins and an undefeated season this last year. This was all possible under the direction of Head Coach, Kwame Osei. He took over the Knights after a winless season (0-7) and has lead his players to the top of the record board for four consecutive years.
He describes his group of players as much more than just a regular high school football team.
"Our team is family," Coach Osei explains. "Everyone feels connected, no one is on the outside looking in. The camaraderie on this team is something special, and it's something we cherish."
With already a strong unit out on the field, the Knights were taken back by the outcome of their 2016 city championship game against rival team, the Father Mercredi Trappers. A single-score game (7-0) ended the Holy Trinity Knights winning championship streak.
"We had 2 touchdowns called back and have learned a harsh lesson from that," Coach Osei recalls.
Disciplinary actions on the field will be taken more seriously this season.
"We are not over looking the little things this year. We understand the importance of the micro details, as they can become the difference in winning and losing."
This season, Wesley Naughton, Mike Finn, and Luke Foster are featured on offence.
As a running back, a full back and a linebacker, Wesley Naughton is a physical presence on the field.
"He does not shy away from contact," Coach Osei said. "He will do whatever is needed for the team, whether that is to make a block, get a touchdown or get a sack."
"Arguably the best football player in Fort McMurray," raves Coach Osei about top receiver Mike Finn.
Running precise routes, Finn has the ability to trick defenders and make his way into the endzone.
His unstoppable, athletic nature will be fully utilized in the 2017 season.
"I'm looking forward to getting back on the field to redeem ourselves from last season and show how hard we've been working this offseason," Finn said.
Football will be his key into earning a scholarship at the end of his high school career.
"By playing the game I love, [a scholarship] would mean a lot to me and my family."
The final spotlight on offence is receiver and tight end, Luke Foster. Only a freshmen in high school, this young man is on the Alberta U17 team and has been deemed "the Rob Gronkowski" of the Knights.
Coach Osei has faith that Foster will dominate and catch the eyes of scouts across the province because of his large size and sharp skill although he is only a first year player.
Brandon Dillman will have his first crack as starting quarterback. With a smooth release, he is a natural ball-handler and is expected to make big plays on foot.
As off-season continues until the fall, the coaching staff has stressed the teams mantra of "Work and Earn" (WAE).
"We emphasize everyday that nothing will be given to us, which was evident last year in our championship game," explains Coach Osei. "Every practice and every game we will work and earn, while staying clocked in until the final whistle."
The defense for the Holy Trinity Knights next season is strong and well-represented.
Ola Jergede is a commanding defensive lineman on the field. He is known both physically and vocally on the field.
As a new member to the team and to the sport, Jergede has quickly grasped the game and will take it into new heights for the Knights.
"I hope to be leading the league in sacks and QB hits," Jergede said. "I also want to become a better leader and lead my team to victories."
Another defensive lineman, Khaldon Maghrby is tenacious and relentless in uniform. His momentum on the line is troubling for opposing players.
"Khaldon has an explosive first step," Coach Osei said. "He has a high motor and is the emotional leader on our team."
This season, Maghrby not only wants to improve on the field but also to further his mental game.
"I have to become the best version of myself to achieve my goals for the future," he said.
The last spotlight on defense is cornerback Alvin Shimoli who is claimed to be one of the best in his position in Fort McMurray.
"He is tall, lanky, fast, and can jump," Coach Osei explains. "We expect Alvin to receive a lot of attention this season from scouts."
The 'X' factor of the team, Jevon Garwood, is a bullet. As one of the fastest players in Alberta, the team utilizes his speed to gain points.
"If we can get the ball to him in space, he will take over games."
Although the Holy Trinity Knights are amongst the top tier in Fort McMurray, they are looking elsewhere for more challenging competitors.
"Our games against our rival Father Merc never disappoint as the atmosphere of those games are always electric. Outside of Fort McMurray we hope to finally win a game against a Wheatland team and move on to provincials."
The Knights will continue to carve their name into history this upcoming fall and build a team that thrives on family morals.
Holy Trinity Knights (ASAA/FBFL – Tier 2, Fort McMurray, AB)
Head Coach: Kwame Osei (5th season)
#CFC50 Ranking: N/A
2016 Record: 4-0 (Lost to Father Mercredi Trappers in City Championship Game)
Key Returnees: Mike Finn, Brandon Dillman, Jasfer Yanesa, Jevon Garwood, Ola Jegede, Khaldon Maghrby, Anton Umali, Wesley Naughton, Alvin Shimoli, Evan Peters, Aiden Peters
Key Losses: Sharique Khan, Diego Holz, Nick Cossa, Ali Maawia, Moses Contreras, Osman Fuseini, Thean Badenhort, Brad McNutt
Number of Returning Starters – Offence: 7
Number of Returning Starters – Defence: 5
"X" Factor: Jevon Garwood 
If you would like your high school team previewed, please contact info@canadafootballchat.com.
CLICK HERE FOR 2016 FINAL CFC50 RANKINGS
How is the #CFC50 evaluated?
The #CFC50 rankings considers all conference and non-conference games (in Canada and the United States) while scrimmages are not evaluated (there is no such thing as an exhibition game – those are non-conference games).
Leagues included in rankings: British Columbia AAA Varsity, Alberta Tier One, Saskatchewan 12-man 4A, Manitoba AAA Varsity, Ontario OFSAA Bowl AAA qualified teams, Quebec Juvenile Division 1, New Brunswick 12-man, Nova Scotia Tier 1.
The #CFC50 is a relative ranking that considers top tier leagues from all eight high school playing provinces (minimum one team represented from each province). The CFC Scouting Bureau consists of CFC Reporters, CFC Scouts, and also selected local reporters and scouts who submit local ranking results on a weekly basis. This is the eighth year that Canadafootballchat.com has ranked the top high school teams in Canada.

About Canadafootballchat.com
CFC is the number one national amateur football website (source: ComScore.com) and most respected source for high school and recruiting news in Canada.
About the 'CFC Insider'
The 'CFC Insider' section is for the fan, player, coach, parent, looking for MORE. The mission of this exclusive membership section is to give more recruiting news, exclusive rankings and multi-series stories as well as coach-player instructional videos.
As a CFC INSIDER member, you will have access to:
Become a CFC Insider MEMBER today!
SUBSCRIBE NOW