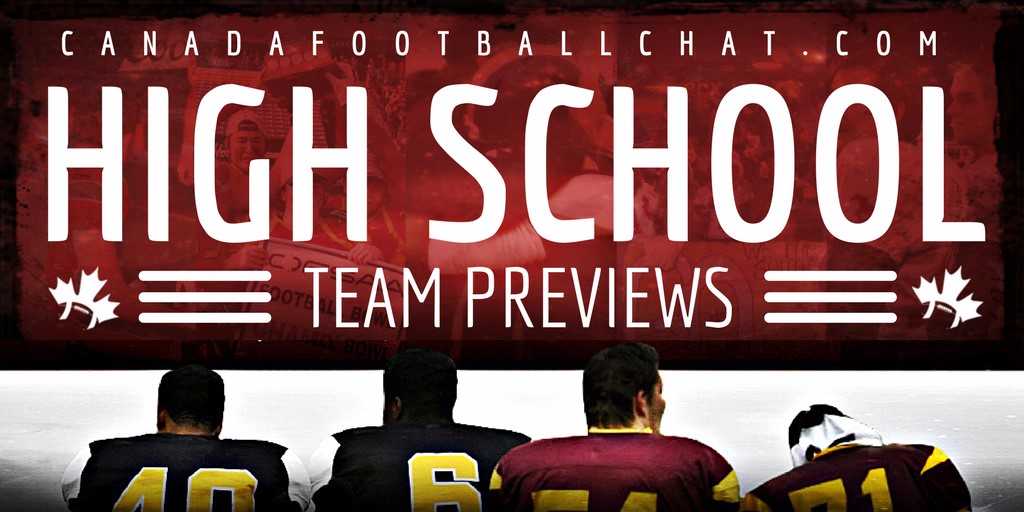 Leading up to the start of the high school season, we will be posting high school/Cégep team previews from June to September as part of our comprehensive season coverage. Canadafootballchat.com (CFC) has tapped into our network of coaches to produce team previews for the 2017 season. The #CFCteampreviews highlight top returning players, team strengths, and toughest opponents.
CFC also will bring you the national high school football rankings known as the #CFC50. Last year's final rankings were the most controversial to date…and we heard about it. Whether you agree or disagree, we love hearing from you. For an explanation of how the rankings are computed, please scroll to the bottom of the page.
Foothills Composite Falcons (ASAA – Tier 2 BRK Conf., Okotoks, AB)
The Foothills Composite Falcons expect to be "very competitive" this campaign.
"Our goal every year is to win our conference and win a provincial title," Falcons head coach Nathan St. Dennis said. "We are excited about our returning athletes and the addition of several talented Grade 10's that we expect to make an impact."
It will be business as usual for the Falcons this season.
"Nothing really changes for us this year, we have added a couple coaches," he said. "We did make the choice to add all Tier 1 top ten teams to our exhibition schedule."
During each week in practice and prep, the Falcons focus will be on "getting better every practice and every week."
They have a rivalry with Holy Trinity Academy and whenever they play them the games are always competitive.
The best way to describe their squad is "athletic," and they have decided who their starting QB will be.
"Tyson Pitcher and Keaton Neish will be our QBs this year," St. Dennis said. "Tyson is the starter and he is a versatile athlete with the ability to threaten defences in both the passing and running game. Tyson is a student of the game and brings confidence and comfort ability with the offence."
The Falcons have several players who are vital components of their team.
On offence, RB/SB Payton Price is a Grade 12 who played on the Alberta U18 team this summer, RB/SB Payton Burbank is in Grade 11 and played on the Alberta U18 team as well as the Alberta U16 team that played in Texas, where he won the Offensive MVP and QB Tyson Pitcher is a Grade 12 who is in his second year as the starter here.
On the other side of the ball, DB Seth Nelson is a Grade 12 who played on the Alberta U18 team this summer, LB Jake Tighe is a Grade 11 who is in his second year as a starter here and LB Carson Reemus is a Grade 10 who just recently played on the Alberta U16 team, where he was selected as the Defensive MVP during one of the games.
Fortunately for the Falcons, the vast majority of their offence is returning this year, with the only exceptions being two offensive linemen. Here are key offensive players who are still with the squad: RB/SB Peyton Price, RB/SB Payton Burbank, QB Tyson Pitcher, OL Parker Nakamura, SB/QB Keaton Neish and WR Tyson Hartle.
As for defence, they lost LBs Tyler Going and Keaton Goosen, as well as Ben Tighe at DB. Their key returnees are: DB Seth Nelson, LB Jake Tighe, DT Riley Gough and DB Glenn Dorshenko.
Matt Bruce, who is a Grade 11 DE, has the potential to be an "X" factor for the Falcons.
"At 6'1" and 230 lbs, he will make a significant impact on the defence on the edge," he said.
Foothills Composite Falcons (ASAA – Tier 2 BRK Conf., Okotoks, AB)
Head Coach: Nathan St. Dennis
2016 Record:
Key Returnees: RB/SB Peyton Price, RB/SB Payton Burbank, QB Tyson Pitcher, OL Parker Nakamura, SB/QB Keaton Neish, WR Tyson Hartle, DB Seth Nelson, LB Jake Tighe, DT Riley Gough, DB Glenn Dorshenko
Key Losses: LB Tyler Going, LB Keaton Goosen, DB Ben Tighe

If you would like your high school team previewed, please contact info@canadafootballchat.com.
CLICK HERE FOR 2016 FINAL CFC50 RANKINGS
How is the #CFC50 evaluated?
The #CFC50 rankings considers all conference and non-conference games (in Canada and the United States) while scrimmages are not evaluated (there is no such thing as an exhibition game – those are non-conference games).
Leagues included in rankings: British Columbia AAA Varsity, Alberta Tier One, Saskatchewan 12-man 4A, Manitoba AAA Varsity, Ontario OFSAA Bowl AAA qualified teams, Quebec Juvenile Division 1, New Brunswick 12-man, Nova Scotia Tier 1.
The #CFC50 is a relative ranking that considers top tier leagues from all eight high school playing provinces (minimum one team represented from each province).  The CFC Scouting Bureau consists of CFC Reporters, CFC Scouts, and also selected local reporters and scouts who submit local ranking results on a weekly basis.  This is the eighth year that Canadafootballchat.com has ranked the top high school teams in Canada.
About Canadafootballchat.com
CFC is the number one national amateur football website (source: ComScore.com) and most respected source for high school and recruiting news in Canada.
About the 'CFC Insider'
The 'CFC Insider' section is for the fan, player, coach, parent, looking for MORE. The mission of this exclusive membership section is to give more recruiting news, exclusive rankings and multi-series stories as well as coach-player instructional videos.
As a CFC INSIDER member, you will have access to:
Become a CFC Insider MEMBER today!
SUBSCRIBE NOW